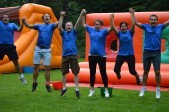 To ensure that you get the best return on your investment, you want your team building day to be remembered for years to come.
A team building day should serve at least two purposes; it should increase team spirit and morale within the group, and it should help to break down any barriers that may be preventing your company from running as smoothly as possible.
To ensure that your team building day delivers all that it possibly can, there are few things you can do:
Get the Right Mix of People
If you want a specific team of people to improve upon certain workplace skills then by all means send the team who already work together.  However, if you want to increase confidence, inter-departmental relationships and help to bridge the gap between management and other workers, then a good mix of roles and ranks is essential.
Choose your event wisely
The team building day should have mass appeal, so it is vital that you pick a team building event that will suit all the people attending.  Some people really won't appreciate a physical outdoor team events, and other may be pushed too far outside of their comfort zone in a creative team building event.
You know your people, and you'll be able to decide which of our broad range of events will have the most appeal.
Decide the location
Whilst a team building day can be held at your workplace, many employees enjoy the chance to spend the day somewhere else.  Most people find they can really let go and enjoy themselves more if they are completely removed from their work and can't be distracted by urgent phone calls.
If your team building day doesn't have an informal evening event attached to it, then it makes sense to have the delegates travelling as little as possible to the event.  However, if you are inviting people from all over the country, and perhaps overseas, then you will need to find a location central and easy to get to via transport networks.