If you're looking for Fun Team Building Games, then you've certainly come to the right place. In the Accolade Corporate Events office, we have a rule - if we would't want to talk part in an event or if we don't think it would be fun, then the event doesn't get into our portfolio! So you know right from the start that any events we suggest are going to be a lot of fun but they are also going to do the important job of building your teams. Take a look around our website and you'll see we've a massive range of exciting options.
Team building events are about allowing teams to bond and strengthen working relationships.  Fun team building games help to do this in many ways, but primarily they serve to improve communication skills and aid people to listen better to their colleagues as well being able to express themselves clearly.
Possessing good communication skills is vital in any workplace. Being able to give direct instructions without any ambiguity, but do so in a way that will show respect to each other helps any business to run smoothly and efficiently.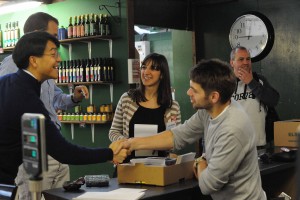 Fun Team Building Games for Work
Here are some of our favourite fun team building games that focus on communication:
Crystal Maze - Based on the popular 90s television show, the Crystal Maze will allow everyone their chance to shine and also take turns in leadership.  Communication is key if people are to complete the tasks within the given timeslot.  This fun team building game also relies on thinking outside of the box, problem solving and logic.
Again, taking the recent TV series as inspiration, teams need to compete against each other to buy a list of random items in an allotted time.  Bartering, time management and a real necessity for good communication is in order if your team want to come back with all the items and having spent the least amount of money.