With the TV show proving to be hugely popular over the years, it's not surprising that our clients love to take part in their very own version of the show. So when a brand new client in the banking industry approached us wanting to host an
Apprentice Style Team Building Event
, we knew that they had come to the right place!We first designed our Team Apprentice for a management training course for John Lewis, this was many years ago and the event has evolved and continually developed ever since. We gave our client the option of making it pure fun or giving it a very business focused direction. They chose mainly the fun direction as they wanted to improve communication and help people to get to know each other better.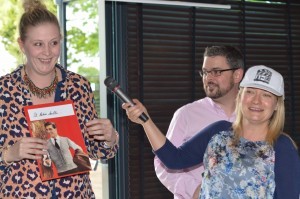 Apprentice Style Team Building Event That Motivates
We arrived on the day and set up the room in anticipation of the delegates arrival, our team hid out of sight and the delegates took their seats...then
BOOM
the apprentice music was cranked up high, the door was flung open and in walked Lord Alan Sugar Rush with his team of eagle eyed advisors, Nick and Karens! The delegates jaws hit the floor as they wondered what on earth was in store for them!In our Apprentice style events, we make sure that it's a very positive environment, the delegates always work in teams and no team is fired but one team is hired - this is always a positive experience. With the tasks explained the teams threw themselves into ensuring that they were going to be the team that Lord Alan was going to hire.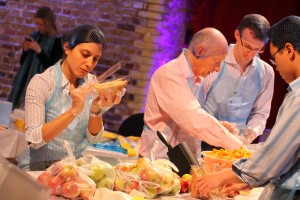 Team names were chosen and Apprentice tasks such as corporate branding, marketing and promotion and a product prototype was hilariously made along with a fit for TV advert. We have to be honest and say that the boardroom sessions were superb, the whole room was enthralled, there was so much laughter and interaction and we've never seen a more enthusiastic presentation of the corporate branding!After the final boardroom session Lord Alan, Nick and Karen's conferred and announced the winning team - who revelled in their glory as they were hired!The feedback from the client was superb, they said:
'It was a fantastic day. The team were really engaed and had a lot of fun. It was great from a team building perspective - a great way for people to get to know each other better.'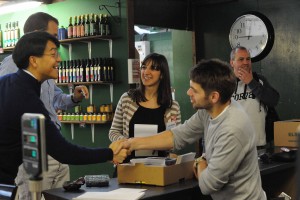 If you are looking to host an Apprentice style team building event and want to make sure it's a huge success - then look no further, we are the experts! We've even just launched our very own
Charity Apprentice event
, so your company can do real good for the community whilst building their team.