Hosting fun corporate days out for over 20 years; any size group, any location worldwide, anything really is possible!
Corporate days out are important as they are a great way to revitalise and rejuvenate your team or renew and strengthen your relationship with your clients. Whatever your reason for organising a corporate day out, you can be certain that we can help you. We've got a whole range of different events for a wide range of different objectives - looking to reward, improve communication, boost morale, network - we've got events perfect for you.
Take a look at our range of outdoor events. Want to cut to the chase? Call us today on 0800 083 1172 or why not fill in our quick contact form and we'll call you back within an hour.
Take a look at 5 popular corporate day out events
Company Fun Days reward not only your employees but their families too and is a fantastic day out. With fun and interactive activities available for the children and adults, this day out really does produce the feel good factor and enhances relationships with your employee's families.
Total Wipeout is always a popular summer team event. There's nothing more invigorating than bouncing your way over the inflatable games and of course getting a good soaking from all of the foam. Always popular and always producing lots of laughter and a huge surge of team spirit.
Treasure Hunts are a firm favourite and with the ability to host our treasure hunts virtually anywhere in the world, we're pretty confident to say that we can definitely write one for you. None of our treasure hunts are off the shelf, they are all written just for you and your company, so they are fresh, vibrant and of course, FUN!
Thriller, we are thrilled, excuse the pun, to host this fabulous Thriller dance event. We've hosted it all over the country in hotels, conference centre and even at Pineapple Studios. Learning the Thriller dance can be as short as an hour right up to a full day. Brilliant, you'll find however, there's a lot of zombie dancing going on when you're back in the office.
Team Apprentice, still a firm favourite and when you think, you could host Team Apprentice anywhere in the UK, or if you fancy a little further afield, how about completing a task in the Souk at Marrakesh or racing around New York City - they'd be pretty cool destinations for your day out!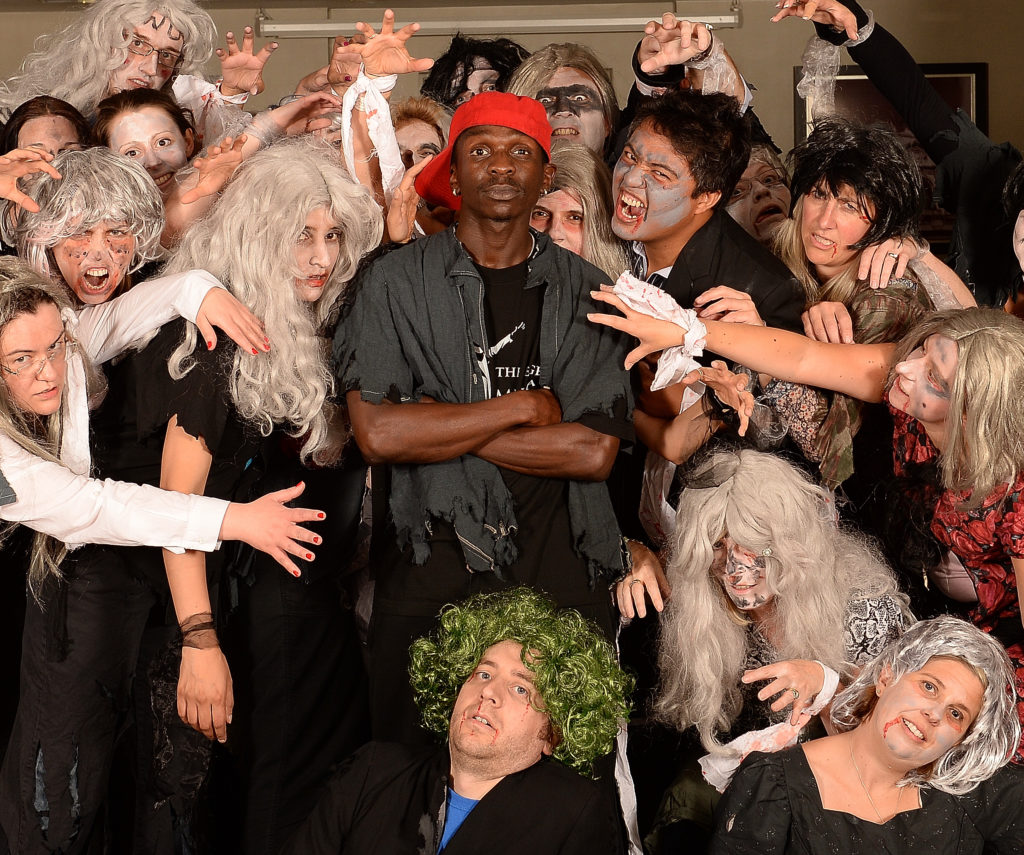 Case Study
We love corporate days out and the great outdoors and even with the unpredictable great British weather, we always seem to be lucky with our events and so that's why we were excited to host an outdoor Country Pursuits team building event for a client we know and love.
Working with their team over many years has helped us have a real understanding of what makes their lovely team tick and what we can suggest to maximise their corporate days out events potential.
So, we helped them find a venue and decided on Wyboston Lakes in Bedfordshire as the perfect location to host the event. The day arrived and as usual there was an excited anticipation of what the group was going to be doing, so when we announced that they were going to be competing in laser clay shooting and archery, and then racing against each other in our exhilarating Honda Pilots and on Quad Bikes, the team were thrilled.
We split the group up into teams and rotated them around the different activities and everybody threw themselves into the competition with a sheer determination to be the winning team - there was also quite a bit of banter of who were the better drivers, the men or the women and we are not going to cast any judgements on that front!
Fun corporate days out that the whole team can enjoy
Our experienced instructors ensured that everybody was safe and had full instruction so they could really attempt the challenges successfully and we discovered some surprising talents. Our Events Director Jane Chapman was overseeing the whole event, making sure the guests were happy, encouraging them and generally enjoying herself because the event was running so smoothly.
Then it was over to the results and to announce the winning team, the tension was high, there were groans from the unsuccessful teams but sheer delight from the winning team and they instantly won office bragging rights!
Feedback was terrific, with our client saying many said it was the best event that they had been on - they are definitely looking forward to the next one which is already booked but we can't tell you what that is because it's a secret but we are looking forward to more corporate days out with them!
If you'd like to find out more about our wonderful corporate days out, then why not give us a call on 0800 083 1172. We've got a wide range of different activities to suit all types of people and personalities, so you can guarantee that there will be something for everyone.