Change in management can have a major impact on your workforce. Read how team building events for work can be used to soften the blow of a new manager or management team, and keep your organisation running smoothly.
A business is generally only as strong and efficient as its workers.  The better employees get along and enjoy their work, the more productive the company will be.   There are however, times when the balance of a team can be affected and the result is often a team that has lost its way a little.  After a change in management, a team can suddenly find that it's lost a few members -- or even gained a few. Either way, that new dynamic needs to settle in and learn to harmonise again and as quickly as possible.
Team building events for work are great business tools for bringing a team together and getting them to concentrate on building morale and regaining trust -- two areas that tend to need addressing following a change in management, merger or round of redundancies.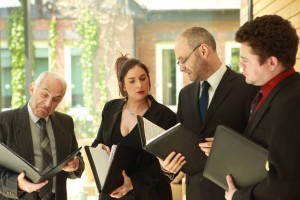 Team building events for work that are fun and effective
Taking the team outside of their usual environment and participating in a fun and informal team building event will help employees to get to know their new colleagues whilst also concentrating on vital workplace skills such as communication, leadership, time management and decision making.
A change of management often leads to mistrust and a tendency to stick rigidly to the 'old way' of working.   Often if two companies or departments have merged, there will be a 'them and us' attitude between workers from the different sectors.   A team building event can be used to break down any communication barriers and it allows employees to discover each other's strengths in neutral surroundings.
Mixing up the teams with employees from different companies and departments will help form new working relationships and build bridges.  Trust between colleagues will be vastly improved and because everyone has had the chance to get to know each other better, the morale in the workplace will be greatly enhanced.
It is in a company's best interest to have the newly formed teams settle as quickly as possible.  Once new teams have been established, a team building event can help to bring everyone together and forge forwards as one united unit.
Team building events for work can either be general or can be tailored to your exact business needs.  In the case of change management, they can be extremely useful in delivering your company message and vision and bringing everyone on board.  They are also a perfect way of introducing colleagues to each other without the day to day distractions of a busy workplace.
Thanks for reading our article! Did you company recently experience a change in management? Why not use team building events to bring your team together and rally around the new management team? Contact Accolade today on how we can help!