Murder Mystery Evening
Hilariously deadly! Our team of professional actors put your super sleuthing skills to the ultimate test!

Duration
Between the courses of your meal

Group Size
10 – 120

Indoor – Outdoor
Indoor

Location
Can be hosted throughout Europe at a venue of your choice
"It was a thoroughly enjoyable event. It's nice to know that we now have an event company we can rely on! I will make sure I sing your praise!"

Abbott
A Murder Mystery evening is fabulous fun! Are you a team of super sleuths? Can you tell the difference between an accident and a murder and do you have what it takes to sniff out a guilty conscience? If you do then we have a dead good evening for you! Our Murder Mystery evenings are both fun and interactive.
We've many dastardly murders to solve including Double oh Kill, Murder on the Orient Expresso, Tragedy at the Manor, I'd die for an Oscar, Hammer Horror, A Grand Death at the Races, Chicago Gangsters, Medieval Mayhem, Treasure of Cutthroat Cove and The Famous Moulin Rouge!
Eat your heart out Sherlock! Can your team identify a killer? Can be hosted anywhere in the world.
Our Murder Mystery evening is a great way of entertaining your guests throughout dinner. Each instalment lasts approximately 15 minutes and normally starts before starters and then it continues in-between and after the courses of your meal.
If you'd like to arrange a murderously fun evening, then give our entertainment team a call on 0800 083 1172 and ask for a free no obligation quote today!
Why not take a look at something completely different – our Play your Cards gameshow is a fantastic interactive team event.
Frequently Asked Questions
Can we play some of the characters in the Murder Mystery?

Yes, we have different formats that will allow you to be part of the cast.
What's the optimum size group for a Murder Mystery?

They genuinely are really flexible which means that anything up to a comfortable 60 people is great fun.
Are your Murder Mysteries serious?

No, our shows are always fun, the engage everyone and there will be plenty of laughter.
Are your actors professional actors or events staff?

They are professional actors and we have a great standard too, most have been on TV and one moved on to star in Emmerdale, so a great bunch.
What Our Clients Say
"Very impressed at the range of activities on the Saturday afternoon and the fireworks in the evening were incredible. The whole day was clearly very well organised and you could tell by the way everything was smoothly managed and directed. A very well done to the team for arranging."
BJSS
"The energy by 500 people performing the HAKA was AWESOME!"
Barclaycard
"The Accolade team were amazing as usual. Everyone had a great time and no negative feedback has been received – you get what you pay for!"
Well Sky
"Everyone thoroughly enjoyed the day and it was good to see everyone getting stuck in!"
British Gas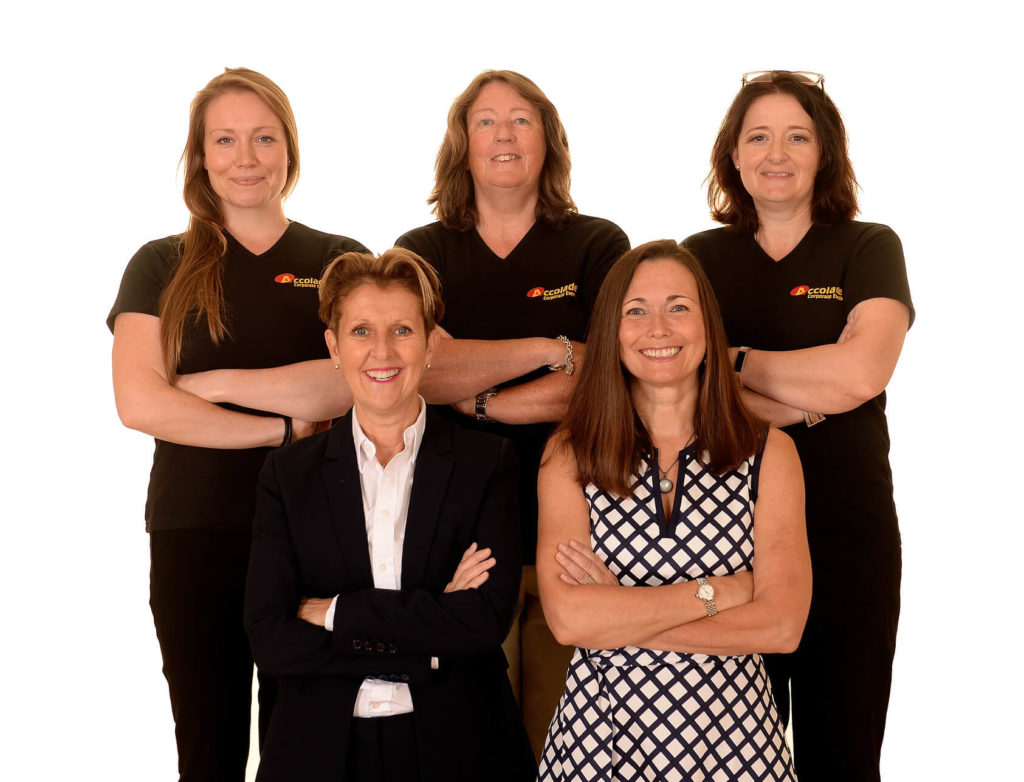 Let's talk about how we can make your next event a total success!