The venue is booked, the catering has been organised and dietary requests have been submitted, décor is in hand and guests have the Secret Santa nailed.
As the event organiser, your job is pretty much done, isn't it?
If only it was that easy.
To pull off a fabulous event, getting the staff to the venue is only half the battle. People turn up to a staff Christmas party with high expectations.
Everyone has been working hard throughout the year and they are looking forward to letting their hair down and having a fantastic time.
While it is sometimes true that a group of people gathered together have a natural spark and a party breaks out spontaneously, more often than not getting a party atmosphere going takes the work of a skilled event organiser.
A good event organiser will know that party spirit cannot be taken for granted. Pulling crackers and wearing silly paper hats does not necessarily lead to jollity.
It can just as easily drift into conversations about work or awkwardness with people idly checking their phones. In this situation, people are generally working out when it is safe to leave without appearing rude.
To avoid an anti-climactic wash-out you need to be ready to take charge with ice-breakers and games.
Here at Accolade Corporate Events, we have oodles of experience and literally hundreds of party ideas to wow your colleagues – pop over to our evening entertainment page to see all that we can offer from wonderfully fun themed party nights, entertainers and bands and lots of interactive entertainment ideas.
We haven't put on a bad party yet and we have over 25 years' experience in the events industry.
Trust us when we say, a party game always breaks the ice!
Once the turkey and Christmas pud have been consumed and lethargy is threatening to kick in, this is the time to up the tempo and bring on the games.
Once we reach adulthood, we often forget the simple pleasure of playing games. Christmas is the one time of year that we can let our inner child escape.
Why not try a retro game based on old TV favourites? Here are some of our go-to fun games that will have everyone joining in.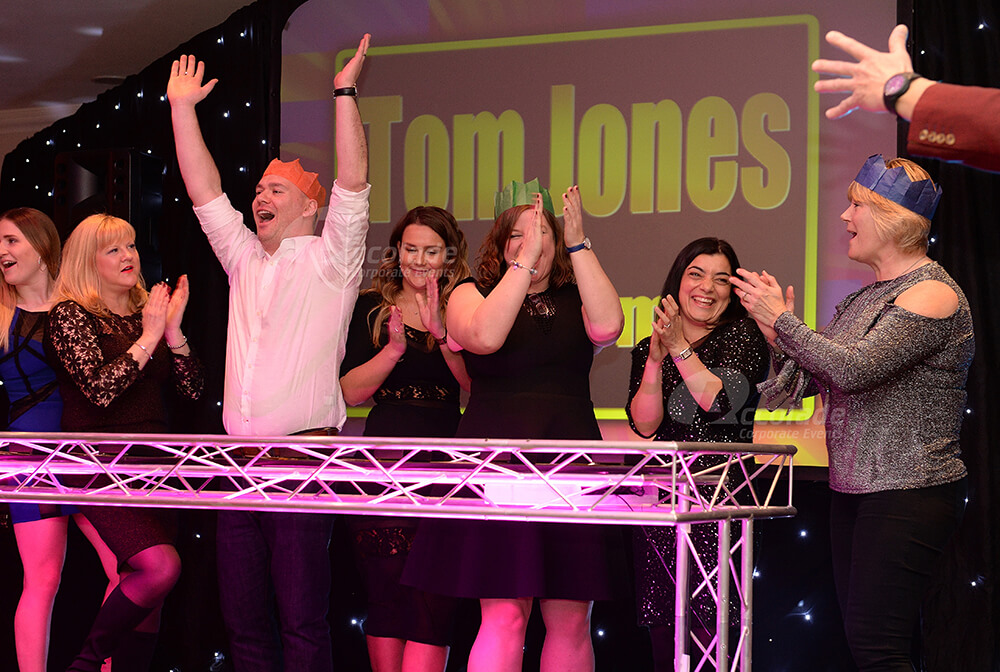 With music clips, props, and even a giant spinning wheel, your staff will love getting involved and showing off their musical knowledge.
Except when the anguish appears on your face, as you say, "Oh No, I know this song. What is it!?"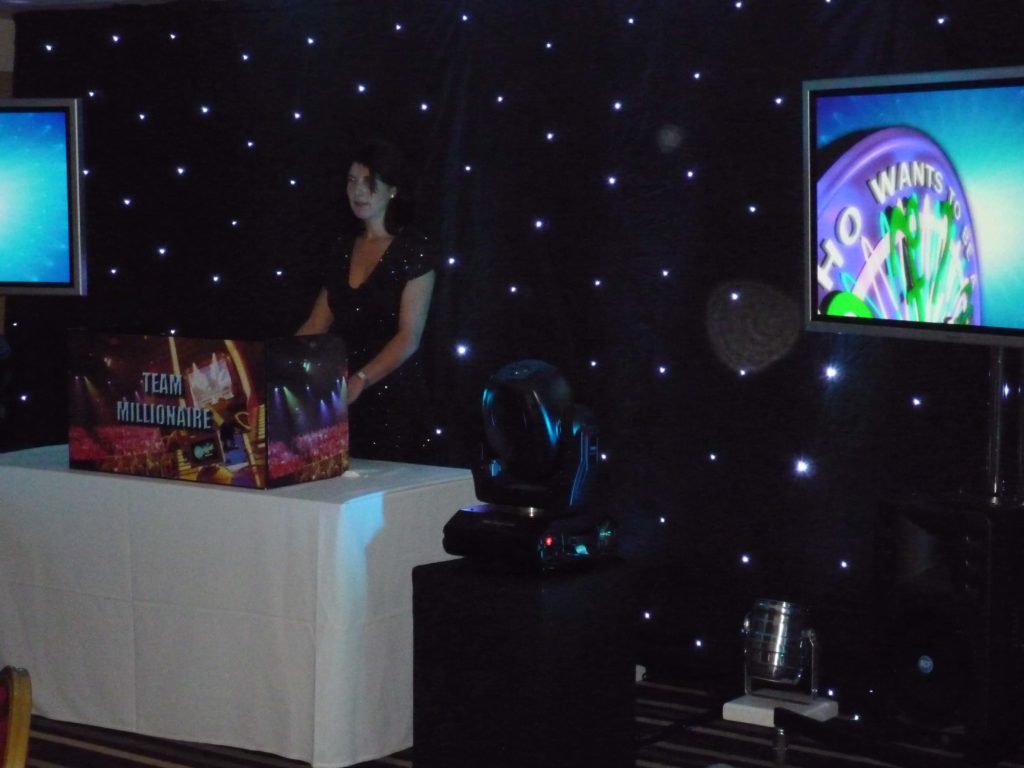 It looks so easy on the TV, but how will you cope when your team is in the hot seat?
With the whole of your group playing at the same time, this corporate party game keeps everyone entertained throughout. Igniting a bit of healthy competition is a great way to get your party entertainment started.
Will you be trying Team Millionaire at your company Christmas party this year? Is that your final answer?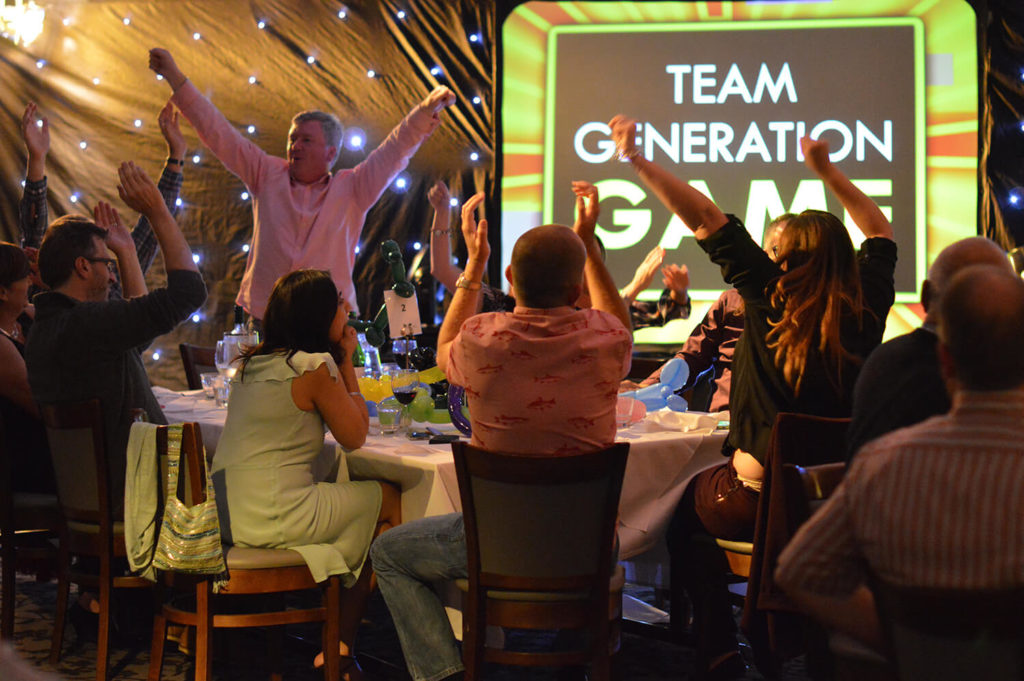 It was the game show that had families glued to their TV screen every Saturday night – and it usually descended into a chaotic and hilarious muddle.
But you don't need to be old enough to remember Bruce Forsyth or even Larry Grayson to have a whale of a time playing this fun-filled retro game.
From senior management down to junior staff, everyone can get involved in this fun icebreaker activity, which will help set the right tone for the rest of the evening.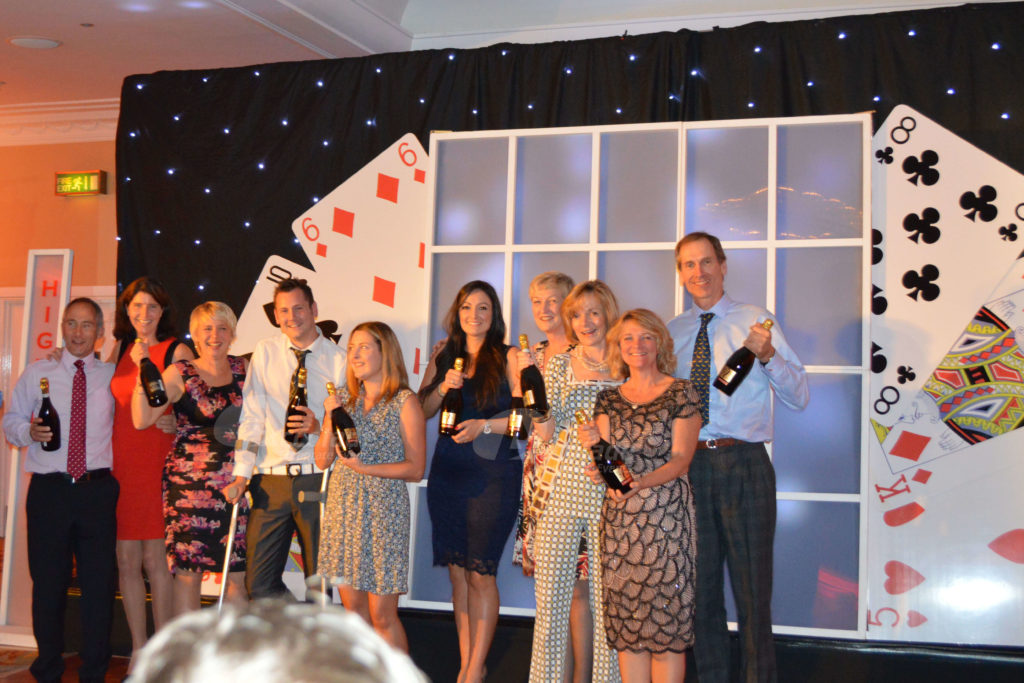 Higher or lower? The concept is simple but it is absolutely addictive. Play Your Cards will keep guests entertained throughout a meal or even as a standalone show.
The giant illuminated card wall means there is something to take centre stage at your company Christmas party. Playing as teams, the audience will love to get involved and shout out what to do next.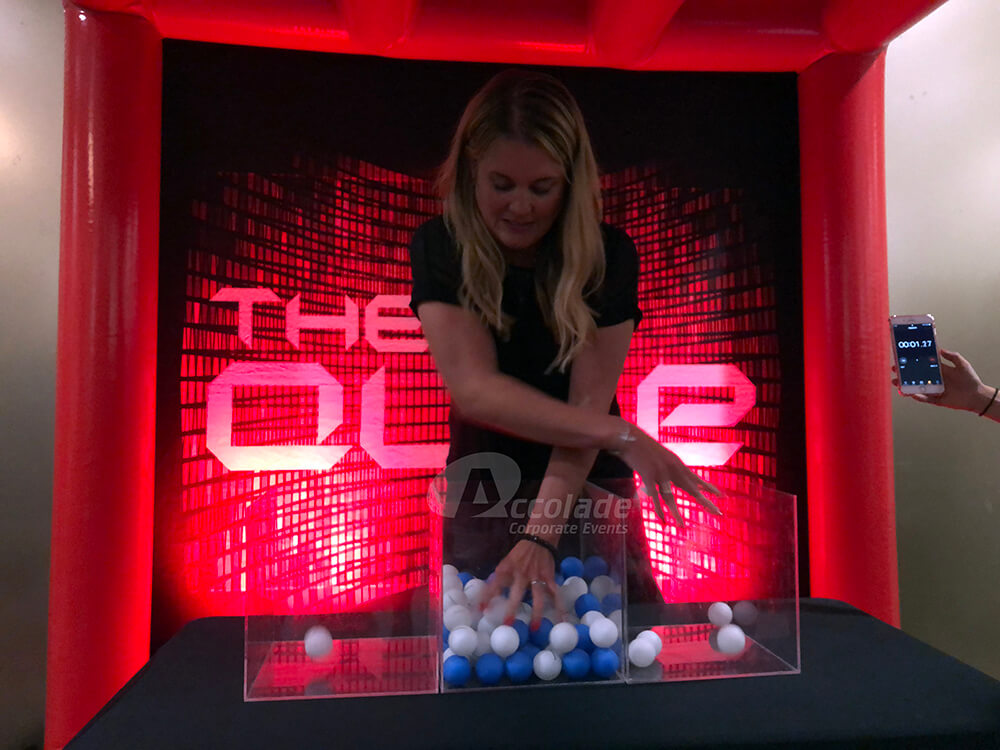 If you're looking for something that's a bit more active, Beat the Cube is for you. Ideal for smaller groups, teams will be set challenges to see if they can beat the clock.
We promise that even those that aren't nominated to complete a task will love watching and cheering on their teammate.
Fast-paced and engaging, how quickly do you think you could sort out different coloured balls? Will you thrive or crack under the pressure?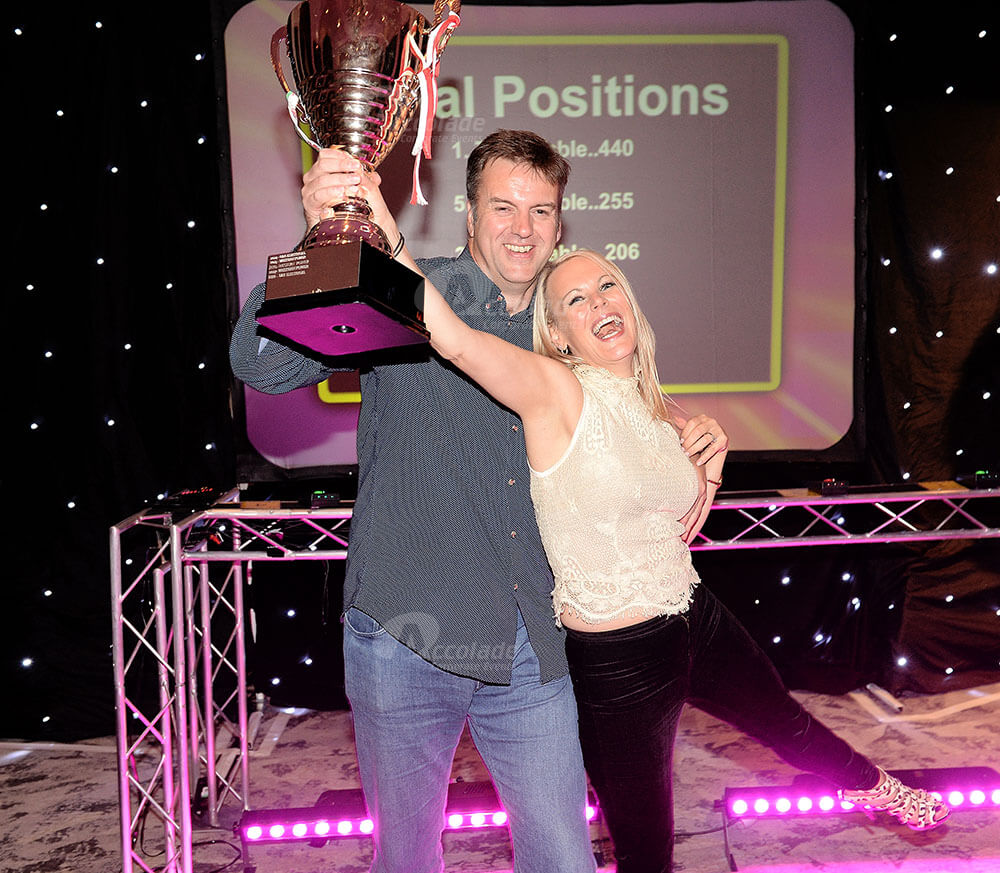 Super, smashing great! This was the game that combined general knowledge with darts, and some catchphrases that everyone couldn't resist repeating. Remember, "Stay out of the black and into the red, nothing in this game for two in a bed."
Don't worry, it will all make sense when you see the prize board. As Jim Bowen never tired of saying, "You can't beat a bit of Bully!"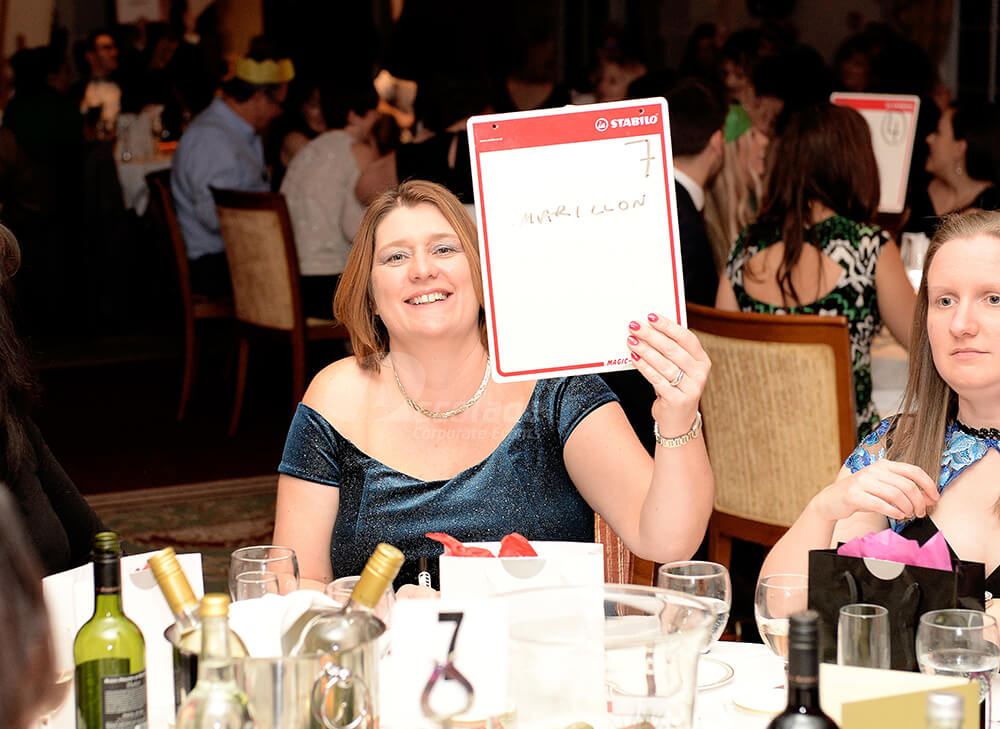 If you want a classic option that is as popular as ever, your Christmas party entertainment need look no further than our pub quiz. It might have the usual general knowledge round but there are some tricky linguistic teasers and riddles thrown in there too.
The whole of your party will be keen to come up with the answers to scoop the converted title of Pub Quiz Champions. If your company has a diverse group of people, the Pub Quiz option is great.
There's such a mixed line up that there's bound to be something everyone can contribute.
---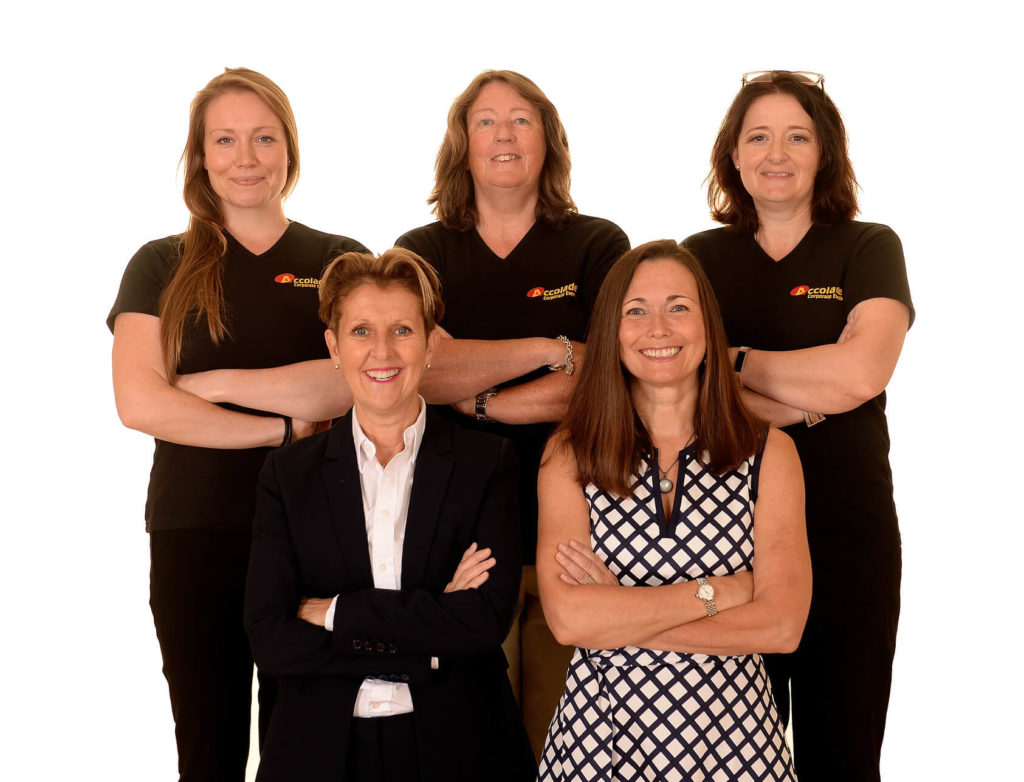 Let's talk about how we can make your office party a total success!