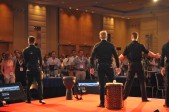 Many of our clients come to us looking for quick team building activities. The term 'quick' can mean different things to different clients and usually ranges from anywhere between 10 minutes and three hours, so naturally there's a huge range of different events that can be hosted within these time frames. The great news is, we have lots of different and exciting team building activities that we can offer your group!
Quick team building activities to improve communication
Building communication is a popular objective for our clients. Sometimes your conference will be the only time you have everybody under one roof and you need to break the ice and build communication as quickly as possible, relaxing, inspiring and building the sense of your company as one big team.
There are many ways we can easily achieve this; Drumming will build your group like you didn't think possible. Forget any preconceived ideas you may have about drumming, we only use experts at the top of their game, our facilitators are highly experienced in taking your objectives and conveying them in a motivational way and in a way that your entire team will buy into. Drumming events can be hosted in as little as 40 minutes up to three hours.
Another popular team building event to build communication is Team Apprentice. Our version of this hugely popular TV show has been designed to specifically boost confidence and build communication amongst your teams – totally unlike the TV show! We can tailor it to your specific business objectives and like with the drumming, we only use the best. Our Lord Alan Sugar-Rush and his Eagle Eyed Advisors are trained actors and experienced event managers who know exactly how to get the best out of your team. We believe our events are only as good as the team we send out to host them, that's why we always send out the best.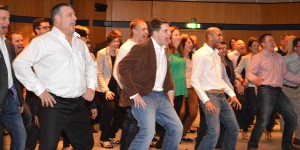 If you'd like to find out more about quick team building activities for your next conference or event, then why not call us on 0800 083 1172 and we can listen to your objectives and advise you on the best solutions for you. Quick Team Building Activities