Who doesn't look forward to the Company Christmas Party? Staff who have worked hard all year get a real buzz from letting their hair down with colleagues and it's a sure way a business can show just how much it appreciates the efforts of its employees.
A poorly organised Christmas event will leave employees feeling like your event is a tiresome obligation.
If an office Christmas party isn't well planned by someone who knows what they're doing, it can be dull and predictable. Mediocre parties are a real let down.
These days, employee engagement is high on the corporate agenda. A great Christmas event is an essential way to boost morale, get colleagues mingling and build a buzz amongst teams.
So, where do you start?
There's a whole lot more to be done than simply booking a venue. If you are struggling for ideas, here are our top 10 Christmas Party themes:
1. Winter Wonderland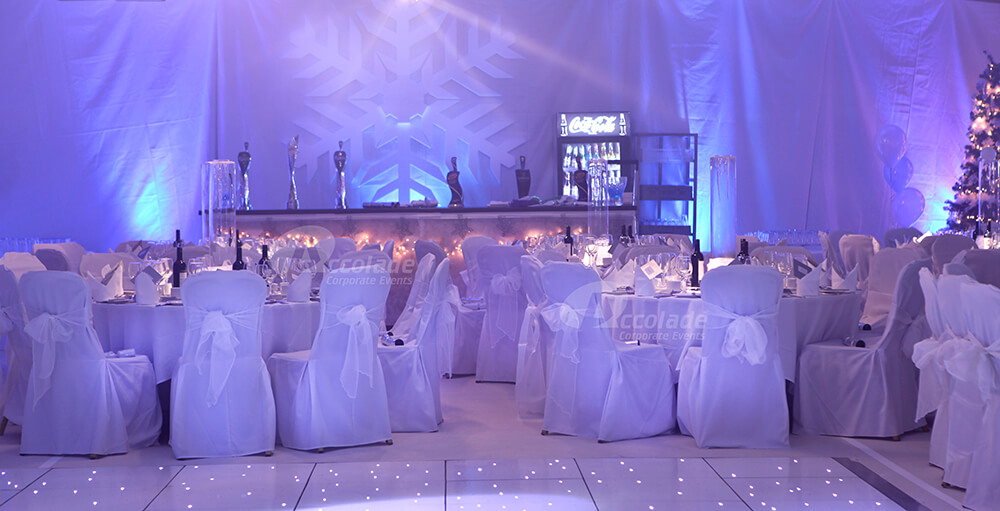 If you want a truly magical Christmas theme, then we can transform your venue into a gorgeous Winter Wonderland.
Imagine a white carpet entrance with falling snow and a magical white snowy interior.
Walls are covered with white drapes, and blue and white lighting create a wintery glow. Additional props bring authenticity to the winter scene from icicles, stars, pillars and white Christmas trees to a temporary white carpet throughout your venue to give that all-important wow-factor and snow-glow setting!
Greet your guests with a wintery smoking cocktail. It's sure to get everyone in the Christmas spirit.
2. Festive Disco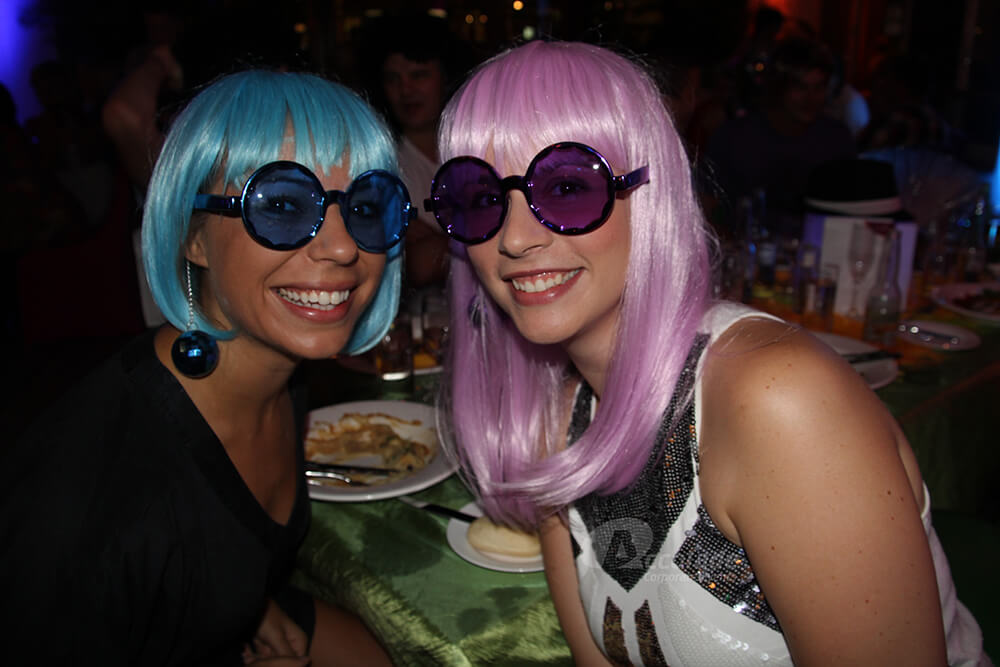 If you want a high energy Christmas do that will have everyone singing and dancing into the early hours, then a Festive Disco is just the theme you are looking for.
If your crowd is a bit on the shy side, our incredible MCs are legendary at getting any party rocking from start to finish.
Remember, we've been doing this gig for a long time, so we've enlisted the most charismatic and fun hosts to ensure guests relax and enjoy the evening from the word go.
Think you'll never see a director do the Dirty Dancing lift? Think again. We have a knack of achieving the impossible!
3. Christmas Team Millionaire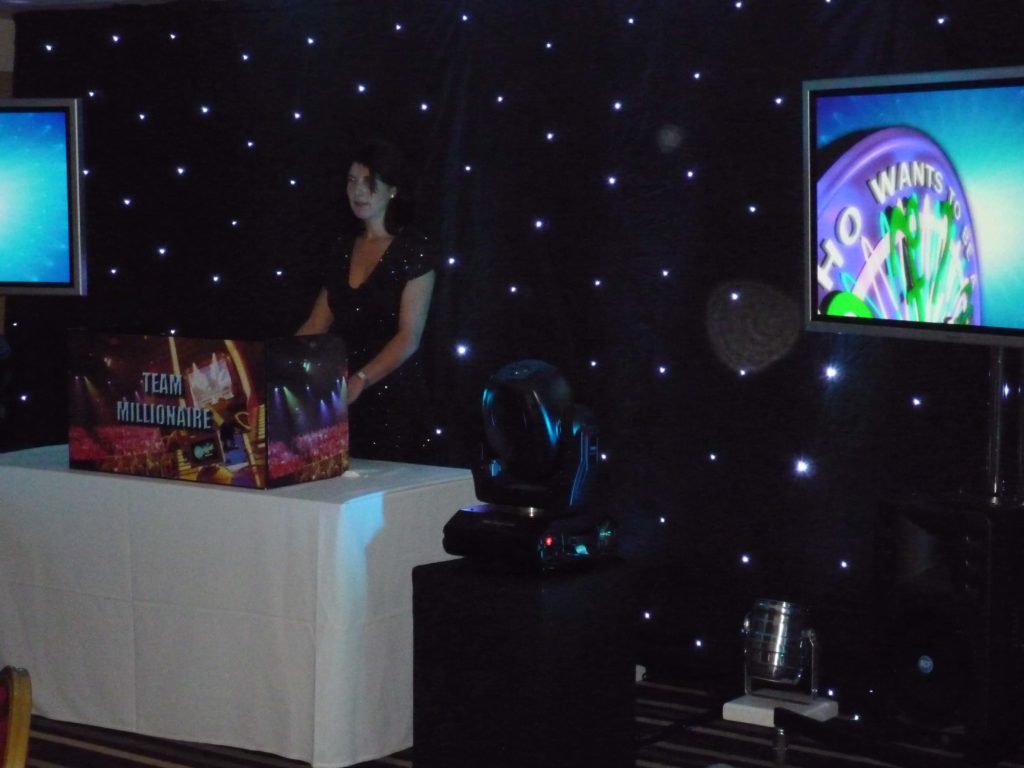 Game shows lend themselves particularly well to corporate events and Team Millionaire is one of our most popular themes.
Questions about your business and staff always get some laughs, so if you like we can customise the quiz for you.
Team Millionaire provides great entertainment between the courses of a sit-down meal. It's a fabulous way to prevent the party spirit from flagging during dinner.
Team questions appear on a large screen and the fantastic game show music gets everyone in the Millionaire mood. It's up to you how generous you want to be with the prizes!
4. Christmas News for You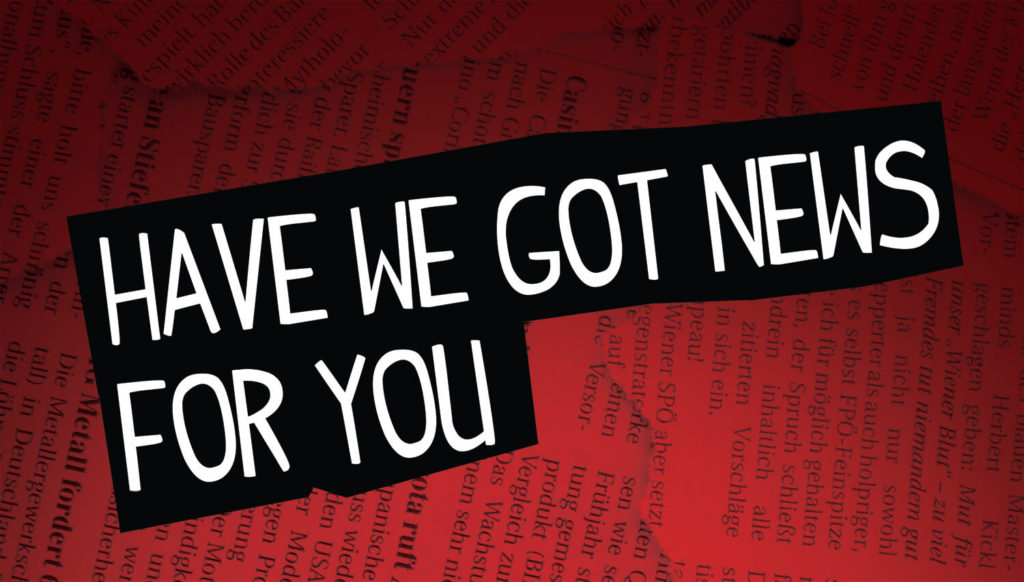 Dinner and a disco is the usual format for a corporate Christmas Party, so why not add something extra to the order of events to make your event stand out from the crowd? Christmas News for you (based on the TV show Have I Got News for You) is a really fun way to enhance any Christmas event.
This topical interactive quiz lets your guests show off their knowledge on politics, news, entertainment and current affairs and brings some spontaneous and hugely entertaining wit and humour to your party.
It's a great way to keep guests entertained throughout dinner.
5. Venetian Masked Ball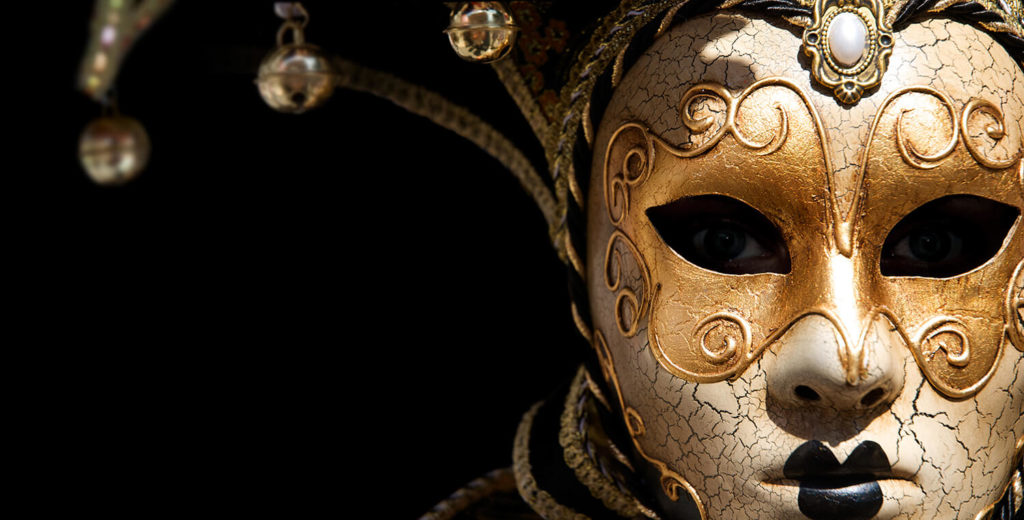 If you want an elegant, high-end Christmas Party then a Venetian Masked Ball is the perfect theme. It's a great excuse to get dressed up in period costumes, ball gowns, livery, white wigs and elaborate masks.
We'll set the scene with plush and decadent décor to create a dazzling ballroom and include a themed area for photographs with a chaise longue and velvet drapes. Your guests will, of course, arrive on a red carpet.
At Accolade, we know just how to create indulgent and glamorous events, so if you need any help, or want us to organise the whole thing for you, simply pick up the phone. We make magic happen.
6. Christmas Team Bullseye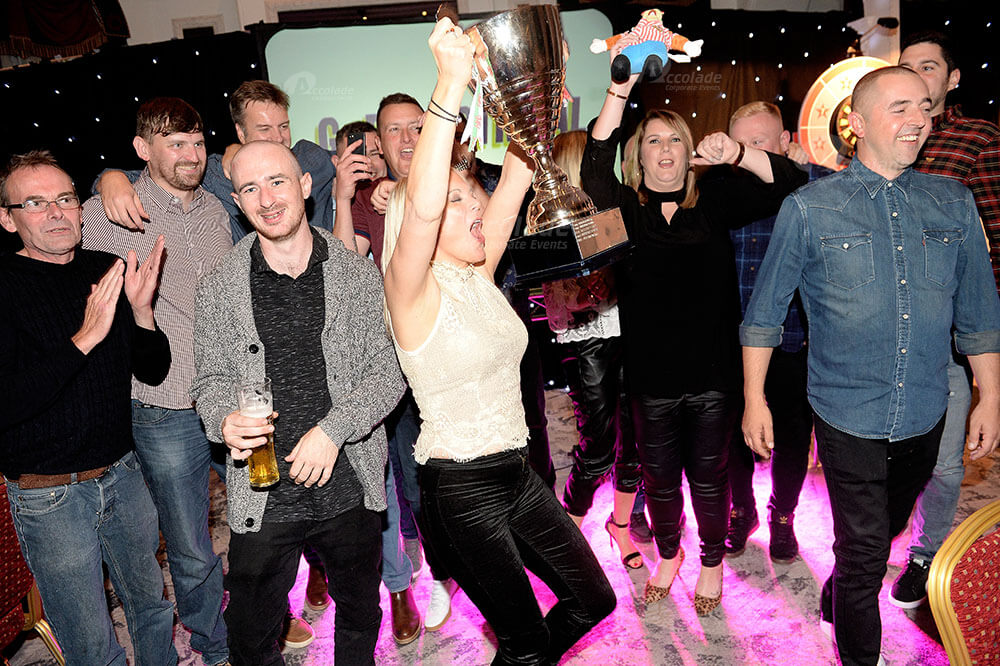 A team-based interactive gameshow is a great addition to any Christmas Party and the much-loved legendary Bullseye makes a fabulously unexpected party game.
Guests buzz in on the quiz to win points and prizes and step up to the oche to test dart-throwing skills. Competitive spirit builds and our professional host keeps the party alive throughout dinner.
This theme really is super, smashing, great! You can't beat a bit of Bully!
7. Murder Mystery Evening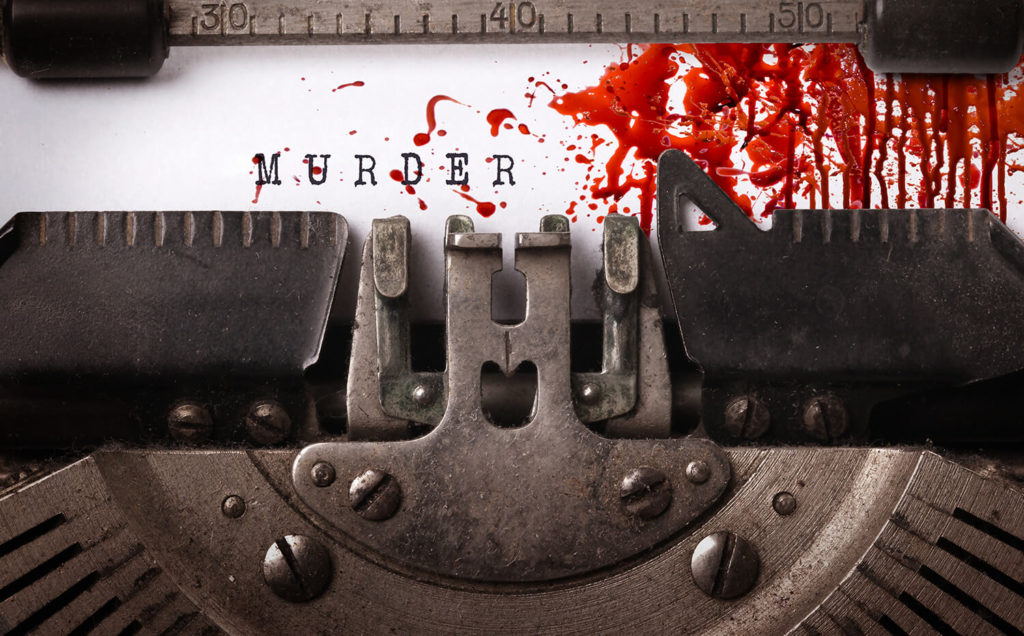 Put sleuthing skills to the test with one of our cunningly crafted Murder Mystery Evenings. We unravel the plot between the courses of your sit-down meal.
Don't worry we don't take ourselves too seriously so there'll be lots of fun and laughter along the way. Our brilliant actors make sure everyone gets involved and you can choose whether or not you want guests to be a part of the cast.
Choose from a variety of themes. Why not set a dress code? Our Moulin Rouge Murder Mystery is a favourite. Or 'I'd die for an Oscar' is another great theme for red carpet attire.
8. Peaky Blinders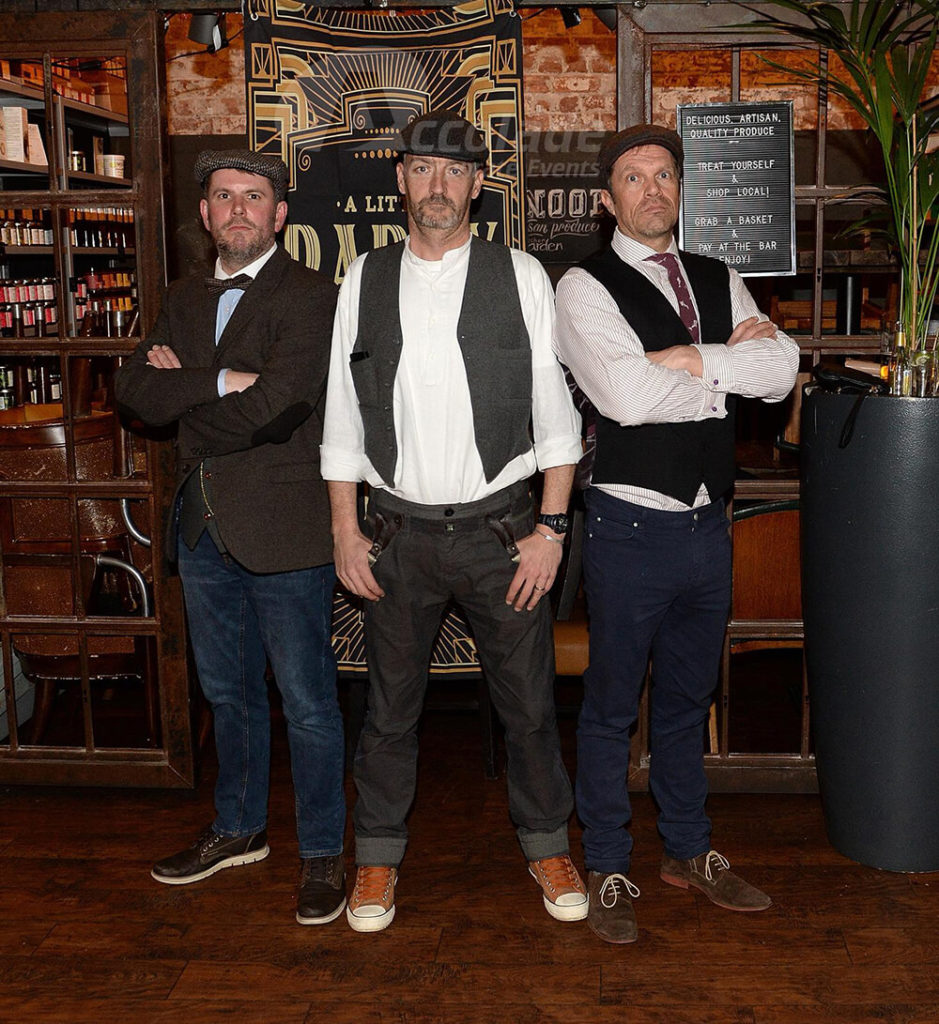 Immerse yourself in the dodgy dealing world of the notorious Shelby family with our Peaky Blinders Christmas Party theme.
We set the scene recreating corners of the backstreet tavern and Charlie Strong's scrapyard. Dress code is strictly 1920s gangsters and flapper girls.
A superb live band keeps the energy high all night long.
9. Viva Las Vegas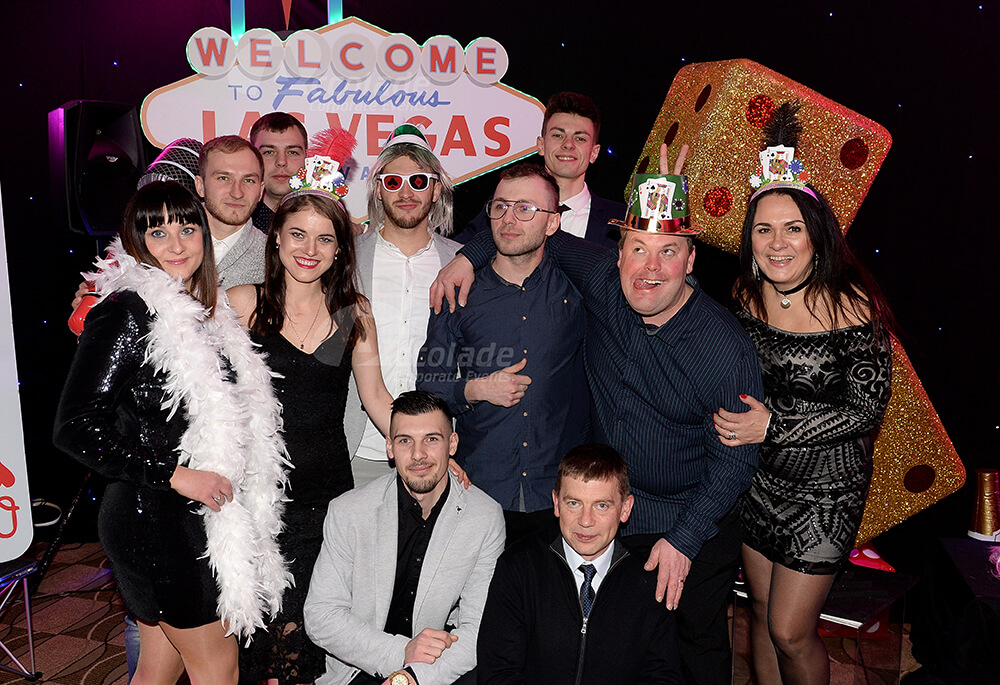 If you want a glamorous themed party that delivers on fun, then our Viva Las Vegas Party is just the ticket. We'll transform your venue into a glitzy paradise.
As your guests enter the room they will be instantly wowed with the splendour and glamour of Vegas.
Expect showgirls, a Rat Pack band and a mind-bogglingly brilliant Elvis impersonator – is the King still alive? Of course, no Las Vegas company party night is complete without a casino. Guests can try their luck at the Wheel of Fortune, Roulette, Poker, Blackjack and Craps.
This is a superbly fun evening for all.
10. German Beer Festival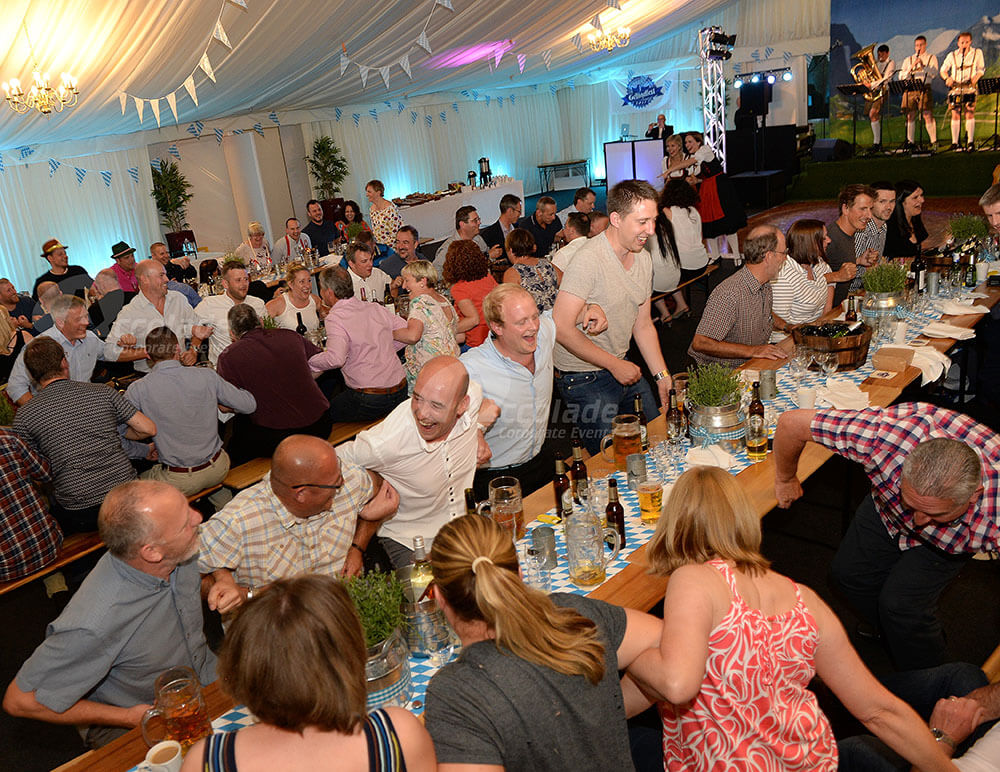 Miss the Oktoberfest? If you want a break from the norm, then why not make your corporate Christmas party a Bavarian extravaganza?
A fabulous live band playing traditional songs will have guests clapping, singing and dancing the night away in between swigging steins of beer.
We create a fun festival vibe with a German Christmas market feel. We'll deck out your venue with bunting, long tables and benches, and traditional German décor. The German Beer Festival is definitely a theme that brings people together and makes a real party atmosphere. Challenge your teams to turn up in lederhosen!
---
Need help organising your Christmas event?
Get in touch with our imaginative team. We know just how to make an unforgettable evening.