Conference ice breakers for large groups are our speciality, for groups up to 10,000 and in any location worldwide - you're in safe hands with the team building experts!
Organising conference ice breakers for large groups can seem like a daunting task, how can you engage all of your delegates, will it be motivational and most importantly, what ice breaker activity can you do with a large group? Don't panic, you're on the best possible website, we CAN help you and we've got lots of activities and ice breaker ideas that can suit a 'large' group of 50 people right up to a whopping huge group of 5000! Yes, really we have! From the power of the mighty HAKA, the creativity of the Big Picture to the excitement that Get Up and Logo creates!
Give our creative team a call on 0800 083 1172 and ask for a free of charge no obligation quote today!
Take a look at five of our popular ice breaker activities or why not call our events team on 0800 083 1172 and tell us what you are trying to achieve or fill in our quick contact form, tell us a good way to contact you and we'll be in touch at a time and way to suit you.
The HAKA: Don't underestimate the power of the HAKA! Accommodating huge groups of up to 10,000 people it's impossible not to join together and become a mighty force! We incorporate your company messages giving them a unique and totally memorable deliverance.
Get Up and Logo!: Getting your delegates off their seats and outside is perfect to wake them up and energise them but when you ask them to focus on bringing your logo to life - then it's a real motivational tool also. Hosted in as little as 20 minutes and for groups for as large as you can imagine - the drone shot photo looks fantastic hanging back at base!
Team Millionaire: Isn't this a game show that just involves one person? No. Most definitely not, We involve all of your delegates all of the time and can host Team Millionaire for groups of up to 500 people in as little as 45 minutes. What's really useful for conference organisers looking for icebreakers for large groups is that we can personalise the questions, to be your company questions, something that we've done for companies like HSBC, American Airlines, and GlaxoSmithKline. We've other game shows that work really well too - take a look at our game show ideas.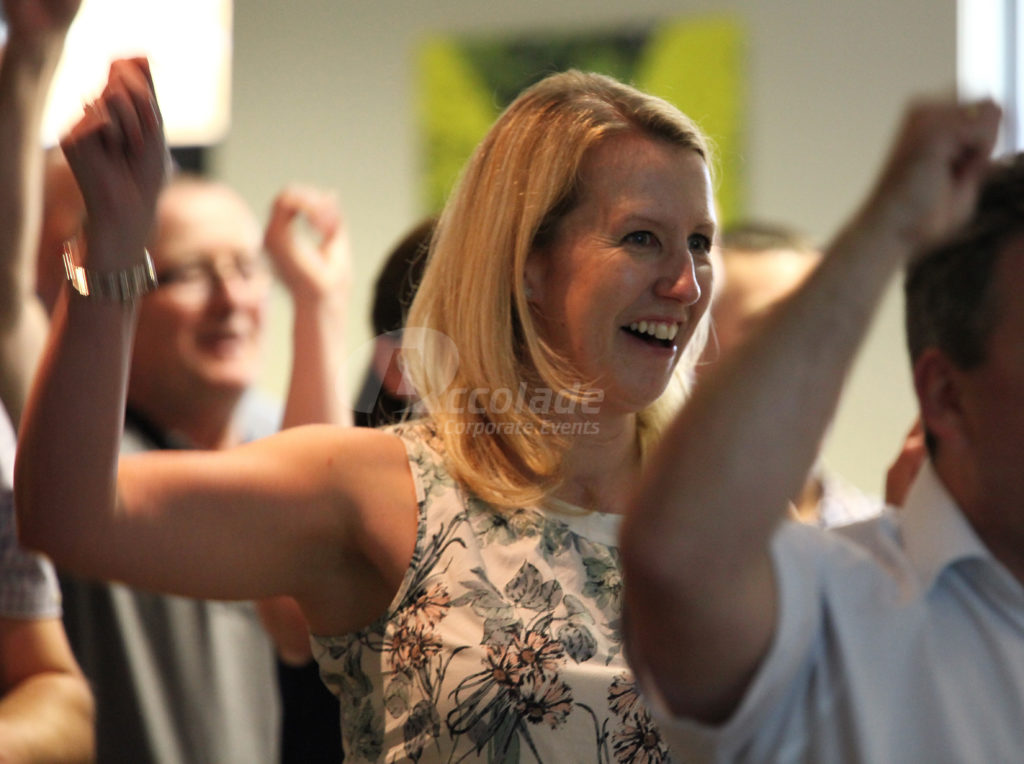 Boomwhackers: Fast, colourful and hugely motivational. These little plastic tubes of pure energy can be distributed within minutes, even to groups of 5000. With the only AV requirement from us being a lapel microphone, this is a conference icebreaker with the most minimal of set up but one that delivers a motivation surge like you wouldn't believe! Take a look at our other icebreakers for large groups that work very well too.
Against the Clock: This is a great icebreaker, packed full of 100 different small tasks that teams must complete to earn points, some are far more difficult than others and teams have to decide if the points justify the time it takes to complete them.We can run this fantastic icebreaker for as many as 500 people and in as little as an hour. Call us for more details on 0800 083 1172 or fill in our contact us form and we'll do just that - be in contact at a time you say is good for you.
These are just five of our conference icebreakers for large groups but we have got many more fabulous ideas. If you're unsure of which activity would suit your large group, then please give our events team a call, we are team building experts and can answer all of your questions and have many great ideas.
Conference icebreakers for large groups are what we specialise in
We've been working with many of our clients hosting conference icebreakers for large groups for years now and we love it when our clients move to a different position or a different company and they've built up such a good trusted relationship with us, that when they look to host another event, they immediately think of us.
That's exactly what happened when our client in the Pharmaceutical Industry called us up and asked if we hosted conference energisers for large groups; of course we do! Our client had a very specific remit, one that they thought would be incredibly challenging for us to fulfil; they had 300 delegates in cabaret style, they had a quick 45 minute slot, they wanted everyone to come together, feel energised and as one big united company and...oh yes, the event was in Barcelona!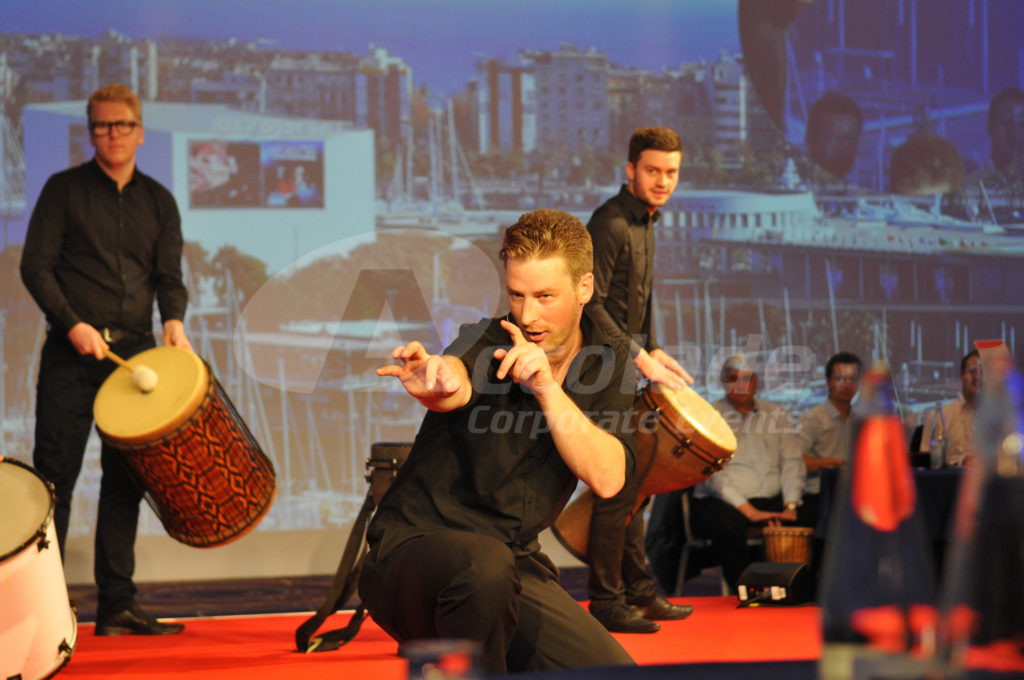 No problem at all, we love events like this! We are so experienced in hosting team building events for large groups that we were able to suggest a wide range of different events that matched their objectives perfectly and they decided upon Drumming.
So, we shipped all 300 drums out to sunny Barcelona and flew our four fantastic facilitators out too. The energiser was to take place after lunch which is notorious for people not being able to stay awake - there was no time for dozing, as our drum masters stormed the stage and treated the delegates to a rousingly loud drumming performance which really showcased the sound of the drums.
Each delegate was quickly given their own drum and then it was time to teach them how to play their rhythms, we split the room into sections and each section was taught a different rhythm. An elite group of VIP's were welcomed on the stage as they also learned a rhythm.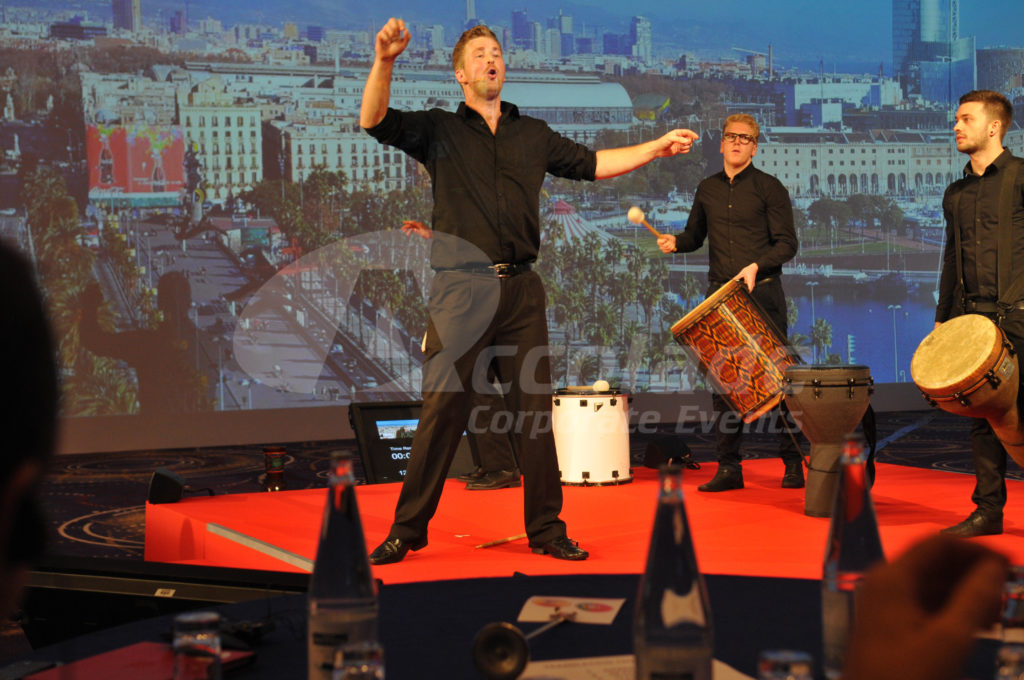 Then it was the finale to this whirlwind energiser, we layered the rhythms and the sound was phenomenal, it was incredible to think that just 45 minutes before, nobody could play the drums. The sheer concentration on everyone's faces to get this right was amazing, which broke to euphonious smiles when they finished! There was a huge feel good factor in the room and it left the next speaker with a room full of happy people eager to listen and absorb!
If you'd like to find out more about how we can help you with conference icebreakers for large groups within your company, then please call on 0800 083 1172 or fill in our contact form - it's time to talk to the experts!