Ice breakers for large groups
What is a good icebreaker for a large group?
The answer to this question really depends on your group, your time allocation for the activity and also your objectives. The conference ice breaker must specifically target all of these elements if it's going to be effective, fun and get your people communicating.
There are many different activities that will get everyone relaxed, motivated and speaking to one another but when you plan your ice breaker games, you need to answer seven important questions:
How many participants will be taking part in the icebreaker?
How much space do you have at your venue?
How much time do you have for the conference ice breakers?
Where in the conference are the icebreakers going to be hosted?
What have you hosted before and what was the feedback?
What are your objectives for your conference ?
What budget are you working towards for the icebreakers?
These are all incredibly important questions to answer and once you have, you'll be able to make an informed choice of activity for your group.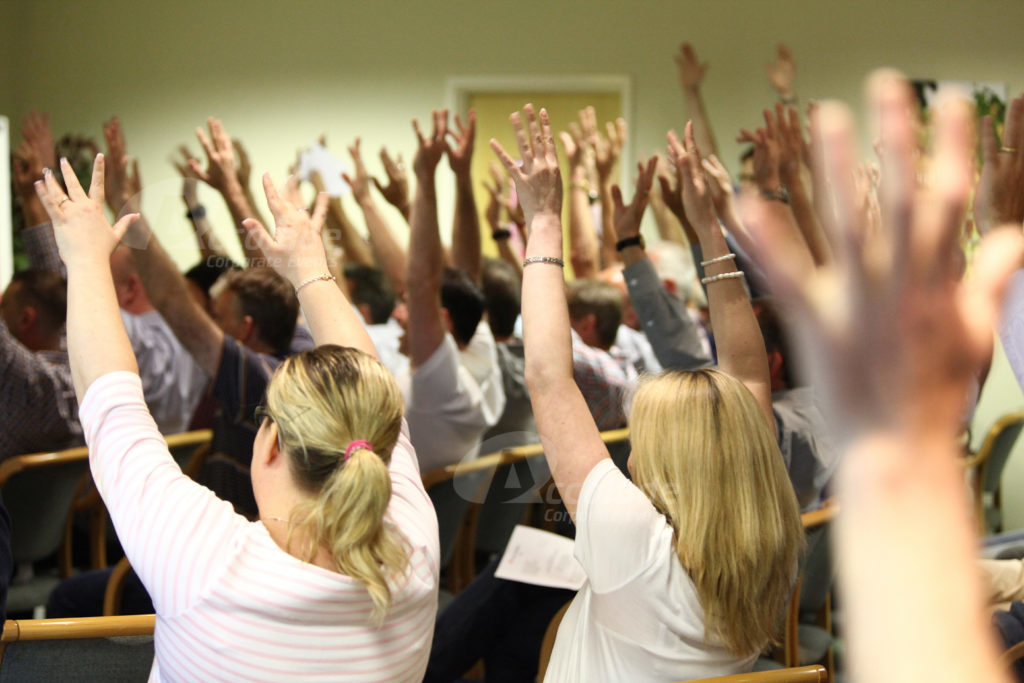 What are some good ice breakers?
There are some excellent conference ice breakers for large groups and so below, we'll take a look at seven that make sure that the ice is well and truly broken within your group.
The beauty of the Haka, a mighty icebreaker is that you can host it for a very, very large group – there really is not limit, seriously, think in the thousands when looking at this activity and it's equally as effective for small groups too.
Hosted by genuine Maori Haka masters, they take your individual people and turn them into an incredible, formidable focused united group.
This unique ice breaker takes your group on a journey, helps then focus and the energy levels within the room are amazing, you can feel the intensity of every single person joining together to be a force to be reckoned with.
We can powerfully incorporate your conference message into this icebreaker and share your core values, meaning your team will be focusing on the message you want to convey.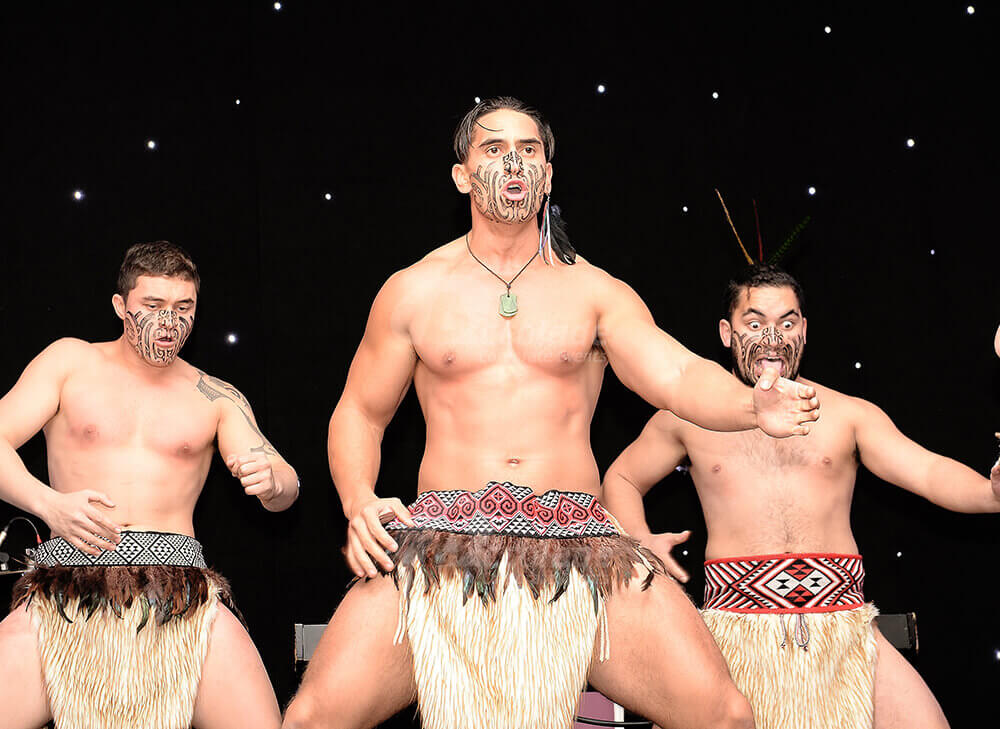 This is one of the best visual conference ice breakers for large groups, as we split your large group into smaller teams and ask them to work on a specific part of a painting.
At first each team take a competitive view to the task but then they realise that they need the help of others and realise that collaboration is the only way to succeed and so they share information.
Each of the teams are recreating just one small part of a bigger picture and so it's crucial that when all of the pieces are put together, they reveal a flowing perfect picture.
This fun ice breaker game is ideal for boosting communication and is perfect for large groups of up to 500 people.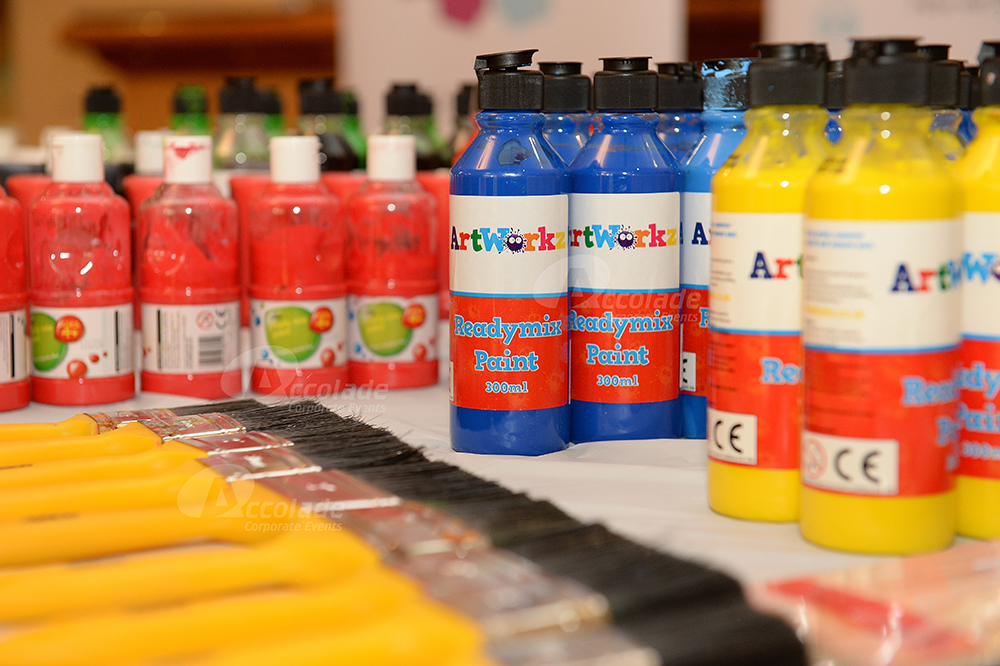 Need high energy icebreakers at your conference that don't need any space, that only lasts for a maximum of 20 minutes and that is perfect for both large and small groups?
Boomwhackers tick all of your ice breaker games boxes.
Using these colourful instruments our expert facilitator will teach your group how to play beautiful and mesmerizing melodies.
Sounds are made by tapping the Boomwhacker against your hand, it's great for groups of all abilities and is one of the best icebreakers which includes everyone,
Our energetic facilitator teaches your group to layer rhythums, one at a time and before you know it, there's a pulsating wonderful sound in your room!
This simple but hugely motivational ice breaker works well for large groups of up to 2000 people.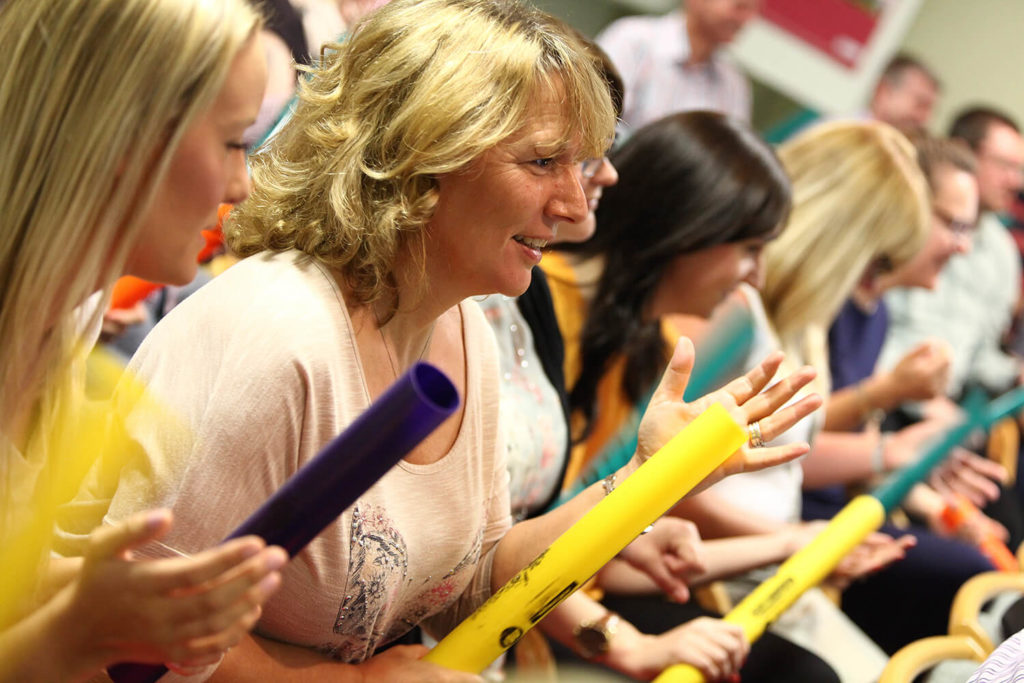 Based on the hugely popular TV show this is a high energy, fun and inclusive icebreaker game for large groups for up to 700 people.
We set your people challenges that they must compete in against an opposing team.
The challenges are random and fun and it makes sure that it gets your people talking to each other to see who the best person is to face the challenge, then the players go head to head!
The Cube works well for large groups and is one of our most popular ice breaker games and can be hosted in as little as an hour.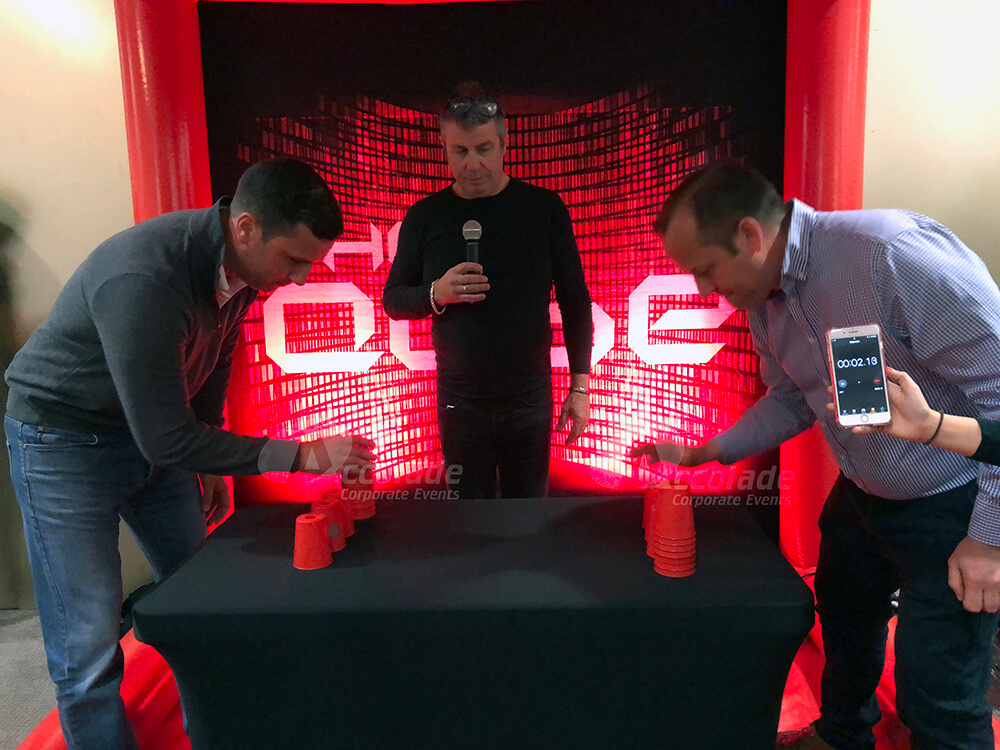 Team Millionaire is one of the most company focused conference icebreaker games that there is.
Each and every question can be tailored exactly to your specific requirements and your people work in teams to decide which answers are true and which answers are false and gamble their lifelines.
With questions appearing on a large screen, swirling millionaire lights and sound effects, your groups are going to love this show!
With a professional compare to ensure that the game flows perfectly and everyone is fully engaged this is a refreshingly high quality show and works well for large groups of up to 700 people.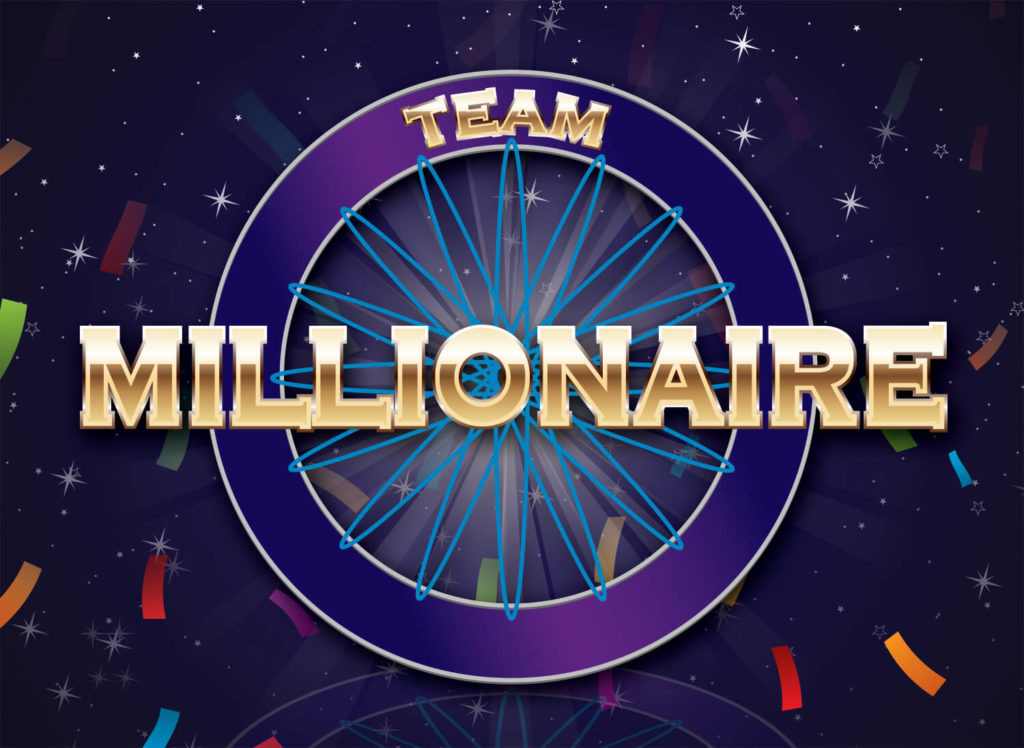 If you're looking for a game for a large group that will get people on their feet, moving around, having fun and communicating, then the Crystal Maze could well be the best icebreakers for you.
We take your large group of up to 1000 people and split them into small teams. They then have a time limit to complete a series of challenges.
Each challenge will earn your team crystals which they then exchange for time within our large inflatable Crystal Maze dome.
Your whole team share the time in the dome as they try to grab the gold tickets in their hands as they fly around the dome.
This really is a game that works perfectly for a large group and works best when hosted outdoors but depending on space, we can also host it indoors too.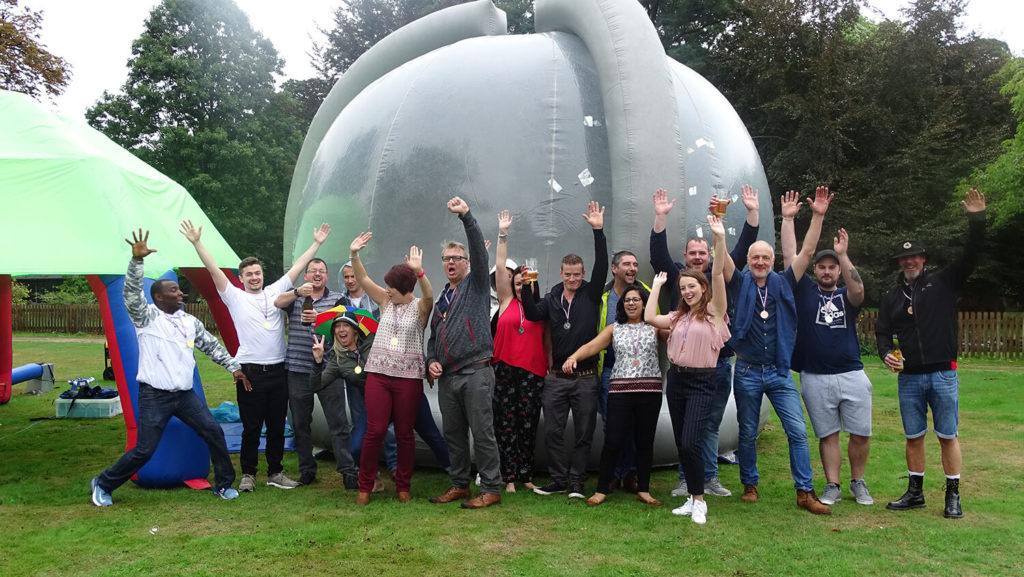 If you've got a large group of up to 100 people then our Fingerprint Masterclass offers something different from other conference icebreakers.
Wearing a full CSI outfit, the aim of the game here is to examine a crime scene and dust for the hidden fingerprints that are there.
Our ex Scotland Yard Fingerprint expert will share some of the best advice into how fingerprints are actually lifted and used in solving real crimes.
Each person will take away a full set of their own fingerprints.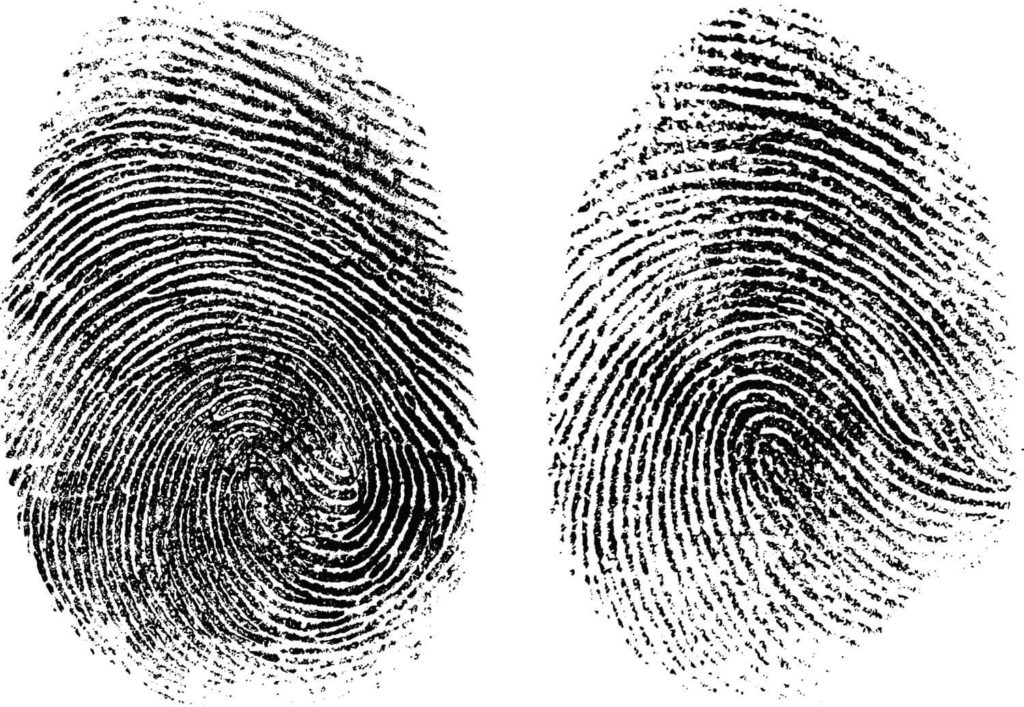 What can you do with a large group?
You should, by now, realise that there are many icebreakers that are perfect for a large group.
Hosting motivational, interactive and fun icebreakers is essential if you want your group to share in a positive experience and truly break the ice.
Experts in group ice breakers
We've been hosting conference ice breaker events for large groups for over 20 years now and we've got a huge amount of experience in tailoring the event so that everyone can share in an incredible session.
We've hosted our events for every group size you can imagine, in all corners of the world and in every possible type of venue.
We know that sometimes, advice is all you need, so why not contact us, drop us an email or give us a call as we'd be more than happy to speak with you and talk through your specific group event.
If you'd like to find out more about our specific recommendations for your large group, then call or email us and we can send you a fully costed, no obligation proposal, packed full of ideas for you to share with your team.