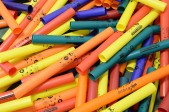 Team building icebreakers are important at a corporate event, they help people to settle much quicker and aid networking.  They can also be used as a quick, yet powerful tool to further enhance your company's mission statement or simply build team morale in a fun and memorable way. At Accolade Corporate Events, we understand what makes a really successful icebreaker and we ensure that your event is a huge success!
Here are 3 of our favourite team building icebreakers:
Team Building Icebreakers Ideas
These can be used at both formal and informal corporate events and are excellent for bringing parties of people together who don't know each other.  They are fantastic to use at dinner, between courses or at the start of the meal, to allow everyone to introduce themselves to each other and enjoy each other's company.
Choose from an retro favourite such as Play Your Cards Right or choose something more modern and up to date, whichever you prefer they will be all inclusive and everyone will know how to play along.
Balloon Identity
Our Ballon Identity team building icebreaker is great fun and will bring out the creative side in your team.  Perfect for conferences as well as informal occasions, teams will be taught by a professional balloon modeller how to create amazing models based on iconic buildings, famous paintings, people, animals and just about anything you like.

Clap Happy
This loud and rousing team building icebreaker allows large numbers of people to participate without the need for any props, making it ideal for large corporate events. It's fast-paced energy makes Clap Happy perfect for starting or ending your occasion on a high and enforcing your company message.


If you are looking to host team building icebreakers and would like some advice, then give our events team a call on 0800 083 1172 and we'll be more than happy to help you.