Every team needs its morale boosting at some stage. Bringing your team together, showing them that they are part of a successful and caring company is an important part of business.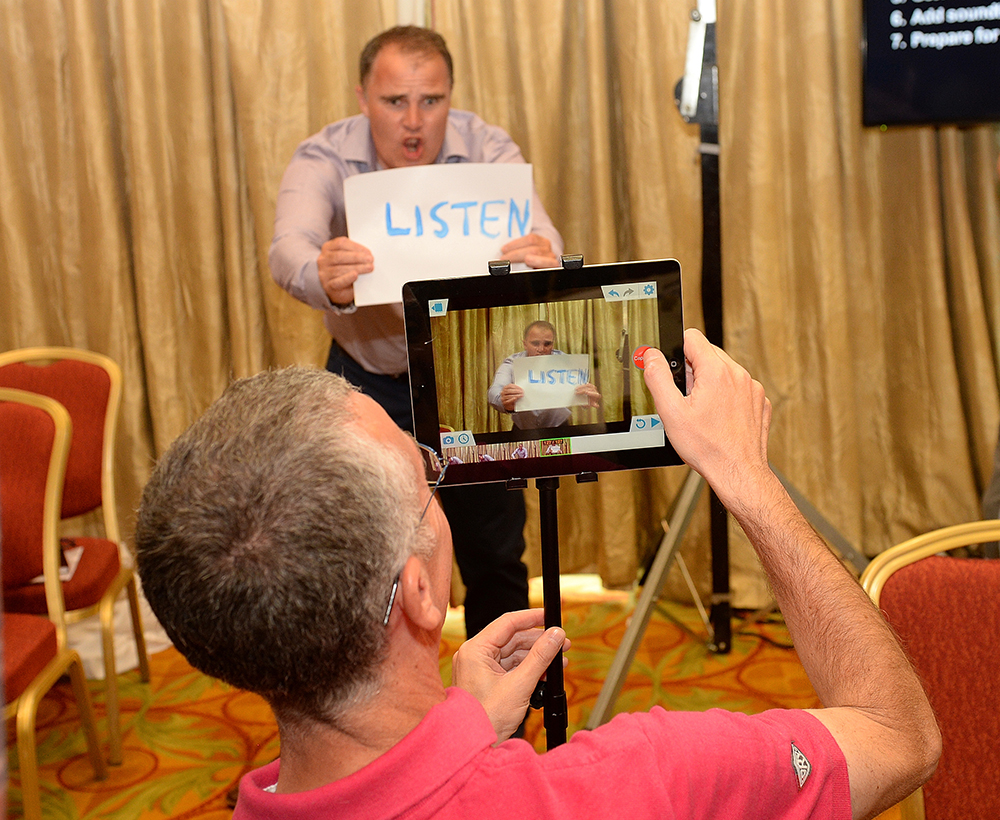 Are you looking for team building activities that you can host indoors? Have you got a group of people that really need motivating? Not sure what team building games would work for your group?
You've come to the right place, we've got a multitude of effective morale boosting team building activities for you to choose from.
With over 20 years of hosting quality team building events, we're experts in listening to our clients objectives and suggesting superb solutions to meet their needs.
We would welcome the chance to discuss your next team event, so please give our friendly team a call on 0800 083 1172 or pop us over an email today.
Let's take a look at 16 of our most popular indoor team building activities.
Popular indoor team building activities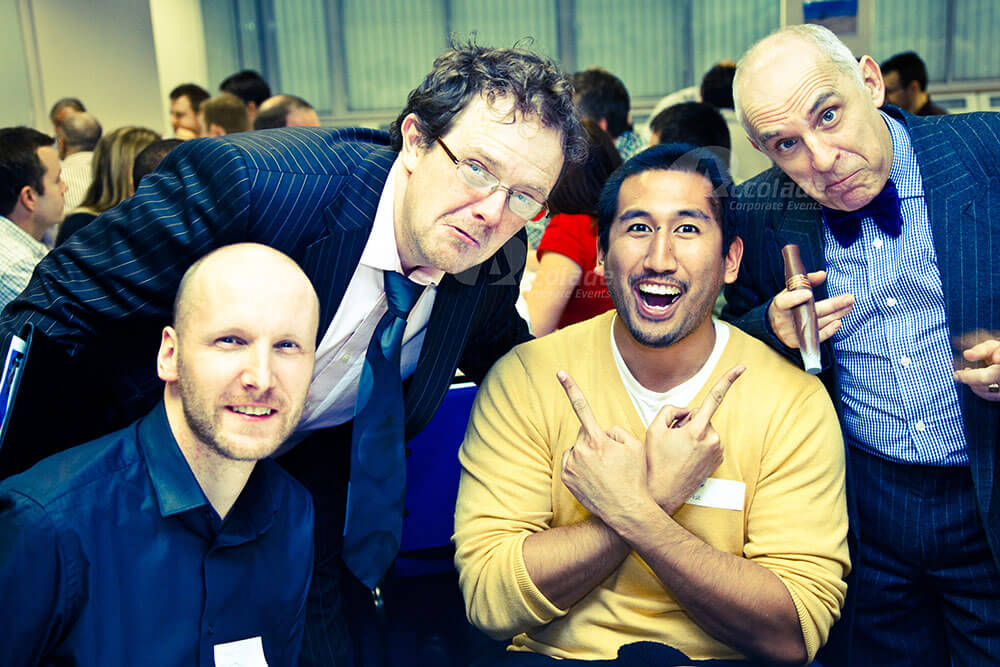 Team Apprentice is always a huge favourite with event organisers from companies large and small. We've developed a series of business focused, yet fun, tasks to be completed both indoor and outdoors – you mix and match your perfect combination for your team.
Following in the footsteps of the popular TV show, we've adapted our version to ensure that your team members must be working together in order to succeed. Unlike the TV show however, this is an event that focuses on team collaboration, this is not about one person, it's all about working together.
Challenges can include the buying task, advertising task, social media task, corporate identity task and many others. If you are looking for something specific to your company and industry then please get in touch as we love to create bespoke solutions for our clients.
Team Apprentice is suitable for groups of up to 250 people and can be hosted in as little as two hours up to a full day.
If you are looking for a great way to ensure your team members work together, discover hidden talents and see each other in a different light then our fantastic Company Bake Off is the perfect indoor team building event for you!
Unlike the nations most loved TV shows, we are not looking for an individual star baker, we're looking for a team of star bakers! Working closely together, this perfect event relies on team members communicating and identifying skill sets in order to be crowned the winners.
This is a fun, relaxed indoor team building game that always brings out the best in each team member and usually reveals some very unexpected hidden talents!
Company Bake Off is suitable for groups of up to 150 people and is flexible and can be hosted from 3 – 6 hours.
If you think you've experienced a drumming workshop before, then you need to think again. Not all drumming workshops are made the same and ours stand out in a league of their own.
With our superb facilitator guiding your through the session, drumming can be one of the most effective indoor team building activities that you could hope to host.
We'll work with you before your event and talk through the objectives of your event and then on the day, we'll effortlessly weave them into the session, leaving all of your team members on a total high!
Our drumming sessions focus on the group as a whole but we also illustrate how one person can inspire and change the group dynamics. Teaching good solid leadership lessons, this is a fun team building activity that really does test your teams communication skills.
Drumming Workshop is suitable for many people from 12 right up to a whopping 2000 and can be hosted in as little as 1 hour or as long as 4 hours.
Team Animation is a fun way to get your team to really push their creative thinking. It's proven highly popular and is a great indoor team building activity.
In a nutshell, your teams have to plan, create and film a short animation story. Your team must delegate tasks and become set designers, camera operators and directors of this epic short film.
We can tailor the briefing so that your team focuses on your company message and absorb it in a fun and unique way.
It never ceases to amaze us when we see the high quality films that teams produce. All of the animations are carefully constructed and the messages that they convey are always on point.
Team Animation is suitable for teams right up to 250 people and can be hosted in as little as two hours right up to 6 hours.
This is always a very popular team building game and is a great way to get your team to work together – it's a lot of fun too!
Faced with a number of different challenges, you'll have to decide which team members will be best to put forward to complete the challenge in the cube. The whole team will be cheering them on and this team building game is all about team spirit and support.
While some of the activities will see a team member going head to head against the opposing team, there are many challenges which see multiple team members competing at the same time.
Beat the Cube is all about teamwork and injects a real competitive edge to your team building session, the atmosphere is always highly charges and everyone has a lot of fun!
Beat the Cube is suitable for groups right up to 750 people and can be hosted in as little as 90 minutes or up to four hours.
The Haka really does pack an incredible punch for motivating and inspiring your team. Where indoor team building activities are concerned, this is one that will not be forgotten.
We work with authentic Maori Haka masters, they are the real deal, they trace their bloodline right back to the tribes in New Zealand. They are the best there is here in the UK and they even partnered with Price Harry to open up the Invictus Games, they are that good.
Everyone plays a vital part in this excellent team activity, each team member adding to the power of the mighty Haka. A clever mix of humor and messages about how to overcome adversity is always well received by each one of your delegates.
We can include your company and conference message into this powerful team event, ensuring all of the energy and all of the focus is completely on point for your company.
The Haka is suitable for groups up to 10,000 (it really doesn't have a upper limit) and can be hosted for up to two hours.
If you're looking for indoor team-building-activities that can enhance your conference message and focus your delegates on your specific company, then Team Millionaire could be your final answer!
Unlike the massively popular TV quiz show, our version of the game focuses on the team, each team must work together to answer the questions and answer the million pound question.
Organizers often chose Team Millionaire to reinforce their conference message as we are able to totally customize the questions for each company.
With a first class game show host, millionaire sound effects and lighting, your team members see the questions on a large screen. This is a quality fun event that packs a powerful business message.
Team Millionaire is suitable for groups of up to 500 and typically last 90 minutes but can also be hosted in the evening between the courses of your evening meal.
Sometimes you just want to have fun and reward your team, our Cocktail Masterclass is perfect for this and while it seems like it's just fun it's one of those team builder activities that's effective without your team members realizing!
Our incredible mixologists are full of energy, personality and of course flair! Your group will work in small teams and after a fantastic cocktail making demonstration, will have to create a cocktail of their own and then present it to the rest of the group.
This is an activity that is always popular, always produces lots of laughter and breaks down barriers easily. If you would prefer, you can have a non alcoholic version of this popular indoor team building event.
Our Cocktail Masterclass is suitable groups up to 250 people and can last up to three hours.
Art based team building activities are great for encouraging peoples creative juices to flow and with this event, each team member is crucial.
We split your group into small teams and then give them a section of art work to reproduce. They only see a section, they don't see the whole picture.
They soon realize that to successfully create the bigger picture, each team must carefully and concisely communicate, the results are staggering.
The Big Picture indoor team building event can be adapted to suit your company and message, we can customize virtually any price of art for your teams to work on.
The grand reveal is always breathtaking as your teams see for the first time how their individual section has helped to create the bigger picture.
The Big Picture can be hosted for groups of up to 500 people and can last up to two hours.
Not all team building games need to be serious and Team Generation Game certainly is not serious! It is, however, a quality and professionally hosted show.
Usually hosted in the evening in between the courses of your evening meal, this is a perfect indoor team event that will get everyone talking and laughing together.
Each of your dining tables becomes a team and everyone in the team will play and get to take part in each of the generation game rounds. Rounds could include napkin folding, balloon modeling or belly dancing and we can even custom make rounds specifically for your company or industry.
It's easy to see why Team Generation Game is one of our most popular indoor team building games for an evening event.
Team Generation Game can be hosted for groups of up to 250 people and is hosted between the courses of your meal or for 90 minutes in one session.
If you're looking for a team building activity with a real edge to it, one that will intrigue, get people working together, problem solving and having a lot of fun, then our Fingerprint Masterclass is ideal!
Hosted by a charismatic expert, our ex Scotland Yard fingerprint guru has years of experience investigating crime scenes and shares all of her secrets with your group.
Wearing the crime scene investigation clothing, your teams will have to dust for prints and deduce who the culprit is.
This is a wonderful indoor team event, it's always great to see how your team work together and each one plays an important part in this fantastic event.
Our Fingerprint Masterclass can be hosted for up to two hours and for groups of up to 100 people.
This is a great team event and it really doesn't matter if you think you can dance or not because this is a step by step, professionally hosted event that shows people that they CAN do it, that by working together, supporting each other in a fun environment, great things can be achieved!
Our Thriller dance workshops are hosted by our professional choreographer who has himself appeared in the Michael Jackson Thriller musical tour. He has such an easy and encouraging way with people of all abilities, he'll work with you and by the end of the event each one of your team members will be an important part of the performance.
Starting with easy to follow moves (and we mean easy) he'll cleverly layer the moves until you've mastered the moves to this internationally famous smash hit.
Each person will get to put on the rags and become a zombie before the final performance of the song. We can film the whole event so that each person can have a lasting reminder of the day.
Our Thriller event can be hosted for up to 1000 people and can last for up to four hours.
This is a fantastic game show if you have specific messages that you would like your team to focus on.
Expertly hosted by our professional game show host, who effortlessly ensures that the pace of the show is vibrant and engaging, this is perfect for a spot of healthy team competition!
Just like the hugely popular gameshow, we ask your teams to fill in the missing top answers to questions. Working as teams, your group will battle to become the top point scorers.
This is an ideal conference energiser and is a really fun way to get each person focusing on your conference message.
Company Fortunes can be hosted for groups of up to 100 people and for up to 90 minutes as one complete show.
Bringing people together in perfect harmony, creating a mesmerising buzz around the room and instilling a fantastic group sense of achievement is exactly what Your Song does!
It doesn't matter if people think that they can't sing because our expert experienced vocal coach will take them on a wonderful journey which enables every team member to make a meaningful contribution to this uplifting indoor team building event.
Choosing from a range of songs that we have handpicked because of their suitability for group learning in a time restricted event, we will encourage and prime your group to be able to give a rousing end performance.
We can even have a live band accompanying your group and a professional film crew to record this amazing performance – anything is possible with this wonderful flexible event.
Your Song is really flexible and can be hosted for up to 1000 people and for up to 60 minutes.
If you need a short burst of energy for your indoor activity, then Boomwhacker could be just what you are looking for.!
With the capacity to host this for up to 5000 people in as little as 10 minutes, this is a very effective energising event.
Boomwhackers are brightly coloured tubes, each different colour, when tapped against the palm of your hand, makes a different sound. We distribute different colours to your team and then our expert facilitator full of incredible and limitless energy, takes your team on a musical journey.
Within seconds he will transform your team into a musical orchestra. You can be guaranteed lots of smiling faces, a group sense of achievement and what's even better is that we can ever so cleverly weave your company message into this superb short team building activity.
Boomwhackers doesn't really have an upper limit and can be hosted between 10 and 20 minutes.
This a fantastic fast paced indoor event that really tests your teams time management, problem solving and how they work together as a team. They'll also need a sense of humour too!
We set your teams a series of 100 different challenges to complete, they won't have time to complete them all and there is no set order for completion, so it's entirely up to them to survey the tasks, take into consideration how long they think it'll take to complete them and assess if the points awarded are worth the gamble.
Tasks could include tricky suitcase packing, balloon modelling, bell ringing and 97 other fun tasks, we really have got something for everyone here which ensures that each team member can play a part in the teams success.
Against the Clock can be hosted for groups of up to 500 people and can last up to 4 hours.
What are the best indoor team building activities?
The best indoor team building activity for your company depends on you and your objectives. Each of our team building games has been carefully designed to meet specific requirements and maximise your return on investment for the event.
The best way to find out which is the best team building event for you is to first clarify the following points (there are many more but let's start with just 8)
How many participants is this for?
How long do you want your team building to last for? Timing is everything.
Are you looking to host your event by splitting your group into smaller teams or keeping them as one big team?
What are your objectives, for example is it to improve communication, problem solving, boost morale or is it to reinforce a specific company message?
What space do you have to host this event in? Is your space limited or do you have plenty of room to move around in?
Are there any access limitations for getting the team building games into the room?
Are there any noise restrictions with your venue?
What is your budget for the team building – any good events company worth their salt will need to know what budget you are working towards as team building games vary hugely in cost and they'll want to direct the right events to you for consideration.
Once you have answers to all of these points, then the best way of finding the most effective indoor team building activities is by talking to us. We'll probably ask you a lot more questions too, to really get a feel for your company, culture and what you are trying to achieve.
Once we've spoken then we'll put together a no obligation and completely free of charge proposal for you and in it will be indoor team building games that match your objectives perfectly.
We're always here and available to answer any questions you may have, so we welcome the chance to speak with you and fine tune what we can offer to your company. Each of our events can be expertly tailored to suit your needs.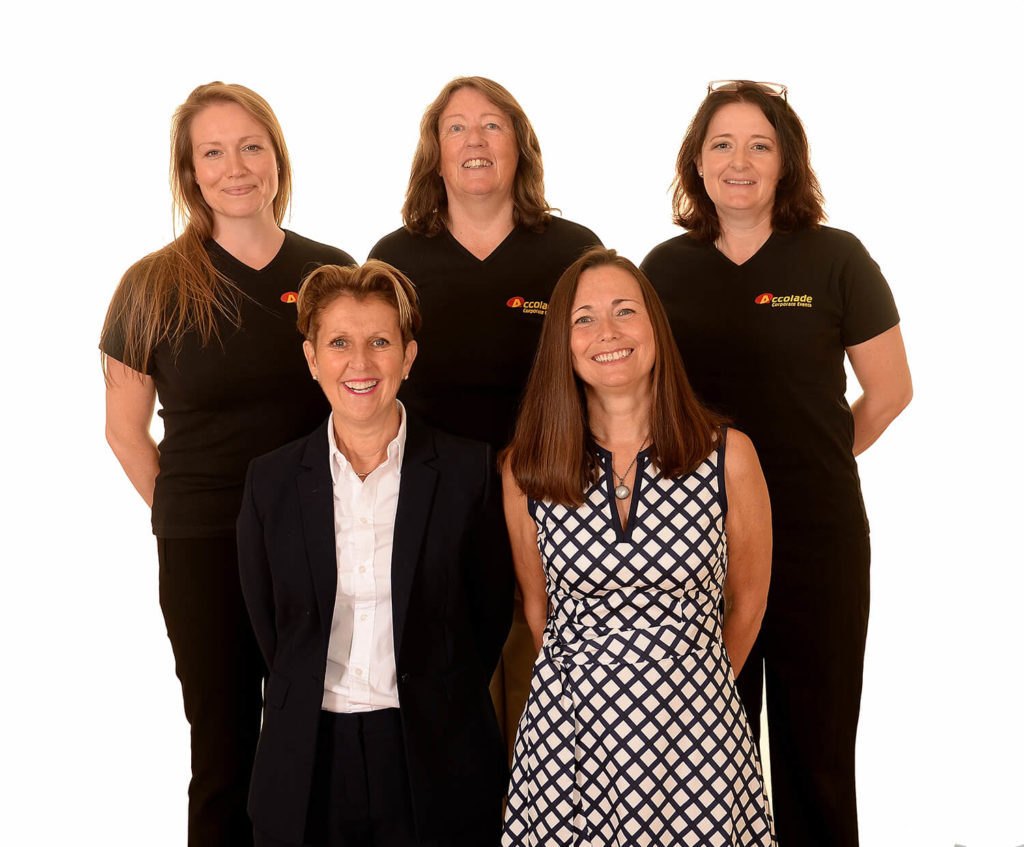 Our team are the best in the business and our staff are second to none.
Accolade Corporate Events are a vibrant event management, party planner and corporate entertainment agency.
We specialise in corporate events and have a huge portfolio of events from corporate entertainment to team building. We love working with our clients to provide the best corporate entertainment events,
At Accolade, there's never any pressure to choose our corporate entertainment, we've every confidence in our corporate events that we offer.
We're always happy to have a chat with you and get a feel for the type of event you want to host, to give advice and to provide you with a proposal of entertainment ideas.
Naturally we'd love to welcome you on board as one of our very happy clients who has hosted a corporate event, so ping us an email or give us a call on 0800 083 1172.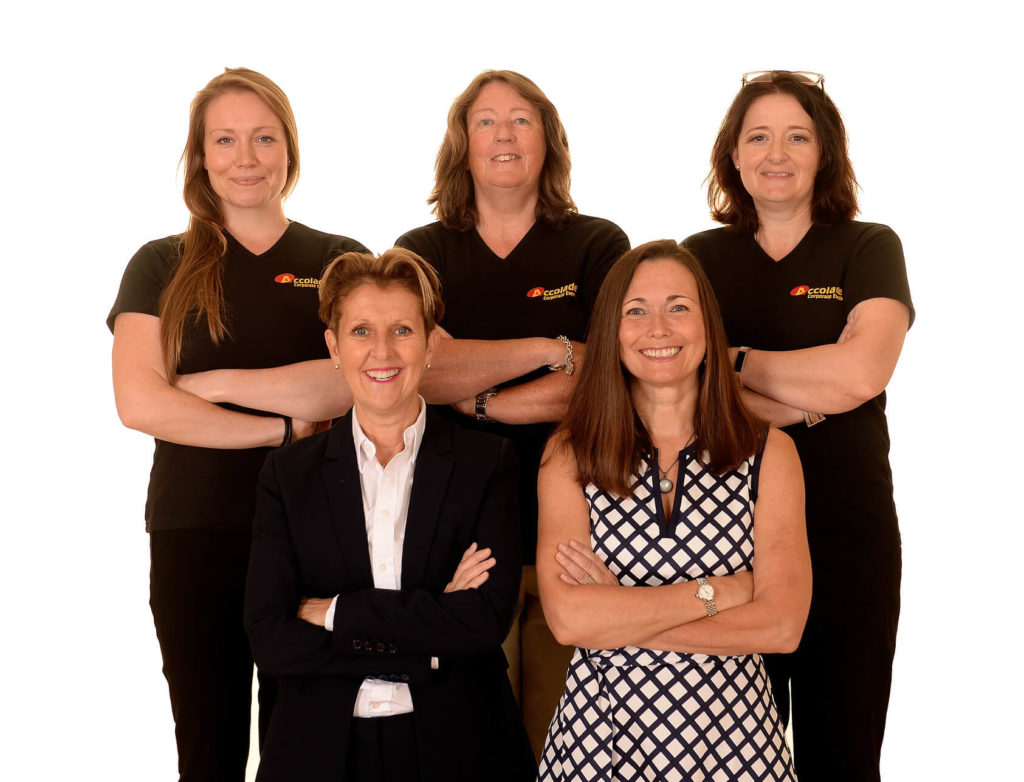 Let's talk about how we can make your next event a total success!