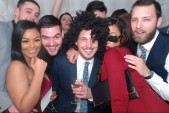 When our clients come to us looking for fun corporate event ideas, they can be sure that we've got plenty to choose from! Sometimes it can be the additional elements to an event the make all the difference, we can make an event memorable by choosing the right finishing touches for your group.
When a company approached us asking how they could make their post Christmas party into an interactive, entertaining and memorable evening, we had a wide range of different ideas including the use of our inflatable photo booth. Photo booths are a great additional element and as the evening flows, the booth becomes increasingly popular. We provide props such as hats and wigs for your guests to wear and then they step into the booth for their photo. The beauty of the booth is that your guests receive instant photos and after the event, we'll send you a USB stick with all of the photos on – meaning that you, as the organiser, has all of the photos from the entire event – smashing!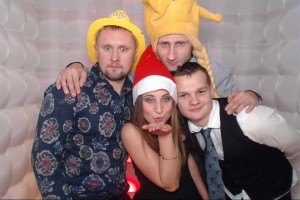 Fun Corporate Event Ideas that Work
The photo booth doesn't have to be restricted to evening entertainment events, it can be a huge success in the daytime too. Family fun days, team reward days and at conferences – all of these occasions can be ideal for a photo booth. When one of our much loved clients wanted us to arrange a company festival for their conference, one of the additional elements we suggested was a photo booth but with a twist – it was a photo VW camper van! The guests absolutely loved it!

If you'd like to find out how we can help you with some wonderfully fun corporate event ideas, then why not take a look around our website or better still, give us a call on 0800 083 1172 and we'll talk you through the many different and exciting possibilities!