With summer not too far away, it is time to start thinking about team building games that your people can enjoy outside.   Outdoor team building games are great fun for all, they are also ideal opportunities to get not only all of your staff together, but also invite their families along for a family fun day.
---
Read more about team building games.
---
Here's a list of some of our favourite team building games for summer:
A trip down memory lane and a chance to get dressed up, our School Sports Day has all of the classic races involved such as the egg and spoon race, sack race and three-legged race.
This outdoor team building game is great for charity events and family fun days.
It's A Knockout Total Wipeout
Water, inflatables and foam create a fast-paced and hilarious outdoor team building game which will have your people talking about for years to come.
This event can be held anywhere in Europe if you'd rather part-take in the event in a sunnier clime.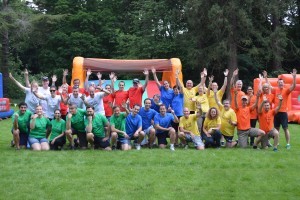 Battle of the Superstars
This adrenalin-packed event is perfect for large groups where several teams can compete against each other, brilliant for adding a healthy dose of inter-departmental competition.Teams will undergo a series of unique sporting tasks including water, track and field events.
Game of Knights
Watched the TV show Game of Thrones and love the thought of Knights battling? Then this hugely popular outdoor team building game inspired by the show will be right up your street.Teams will need to be able to build their own castle, create their own standard and suit of armour and then defend their territory against each other.If you'd like more information on which outdoor team building games would be best suited for your particular group then fill out our contact form and we'll call you back or call us on 0800 083 1172 to speak to our events team immediately.