As well as being fun and a great way to get everyone talking,
ice breaker games
can take your corporate event from the mediocre to the truly memorable. At Accolade Corporate Events, we've got a wonderful mix of different ice breakers that can suit all different types of team, time frames and group sizes. Why not take a browse around our site for inspiration. Here's four reasons why you should include ice breaker games in your next corporate event:
Broaden People's Networks
Having people sit down to dinner with their everyday colleagues may seem like a good idea, but actually mixing things up and introducing new people to each other is an ideal opportunity for people to broaden their own business networks. Using ice breaker games will quickly help to settle everyone in and give them an initial talking point for them to take things from.
Effective Ice Breaker Games
Breaking Down Barriers
Ice breaker games have everyone on an equal footing so therefore they really give people chance to mingle with different management levels on a more informal basis. This helps senior level management to become more approachable and for others, the opportunity to get their name and face known.
Strengthen Your Company Message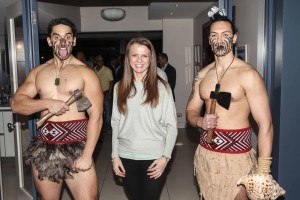 You can tailor your ice breaker games to further emphasise your mission statement. With dramatic and powerful ice breaker games you can really get everyone on board and working together. Memorable ice breakers such as the
Haka
or
Crashing Waiters
will ensure that your message is heard loud and clear.
Raise Morale and Team Spirit
Using ice breaker games to pitch different tables or teams against each other in a fun and relaxed setting is a fantastic way to raise everyone's morale and increase team spirit.
Classic quiz and game shows
are ideal for this purpose and can be tailored to your company or general knowledge. If you'd like to find out how we can help your next event be a huge success then please call us on
0800 083 1172
today.