A How To for Team Building In-HouseIn our last blog article: Fun Team Building Activities – Nine No's No's we explained the benefits behind putting on a team event out of the office. But what if you simply can't use another venue? Or how about companies that have plenty of space and more than enough resources to handle team building in-house? If that sounds like you then handily enough, you're exactly who we've created this guide for. This is how to do team building, right, right at work.
Five Tips for Team Building Done Right
What's the Point?! Why?! All too often this is the question that team members are left with post-team building event. Deciding on a meaningful outcome for your team building activity (such as a team that communicates more effectively, become better presenters or who are more productive), should be the very first thing on your list when it comes to the direction of your day. Pretty lucky for you that we've recently written a blog post on the very subject of goals and event organising: Your Corporate Event: What's the Point?
Key Question: Are you Covered? Planning on inflating a giant slide 'It's a Knockout' Style? Good idea (it's actually one that we use ourselves). Before you dive in head first with planning a physical team building event, you may want to check out whether you're insured, first. Most specifically your public indemnity is going to have to extend to certain activities – as such it may be worth speaking with your insurers directly.
Context – Setting Expectations What do you expect from your teams on the day? Do they understand the goals of the team building, and how this aligns with the company's vision, wider goals and values? Making your team building coherent is key to avoiding the whole 'What's the Point?!' issue and securing the best possible results.
Feedback – For a Bigger and Better Team Building Day Next Year Post-team building it's going to serve you well to gain feedback as to what worked, what didn't and how that goal of yours faired when it came to the crunch. This feedback could and should shape any future team building events – making them more effective with each iteration. Our top tip here is to make the process anonymous for a wholly more open and honest collection of opinions – a questionnaire and collection box will do.
The Team Building Post-Event Wrap Up – Make your Teams Feel Valued Your post-team building period should also include a post-event wrap up – a summary of the day, who achieved what and how hard your teams all worked. Feature the story in your newsletter and on social media – include photos and comments from your team. Finally, and perhaps most importantly, thank your workforce for being a part of an excellent day of laughs, motivation and morale-boosting teamwork.
The Top Three Countdown – Events for In-House Team Building
The Haka Positive attitude of a tribe's person? Check. Fearless in the face of the competition? Double check. A unified team ready to take on the world? Check, check, check. The Haka will have your team stomping and shouting their way to better results.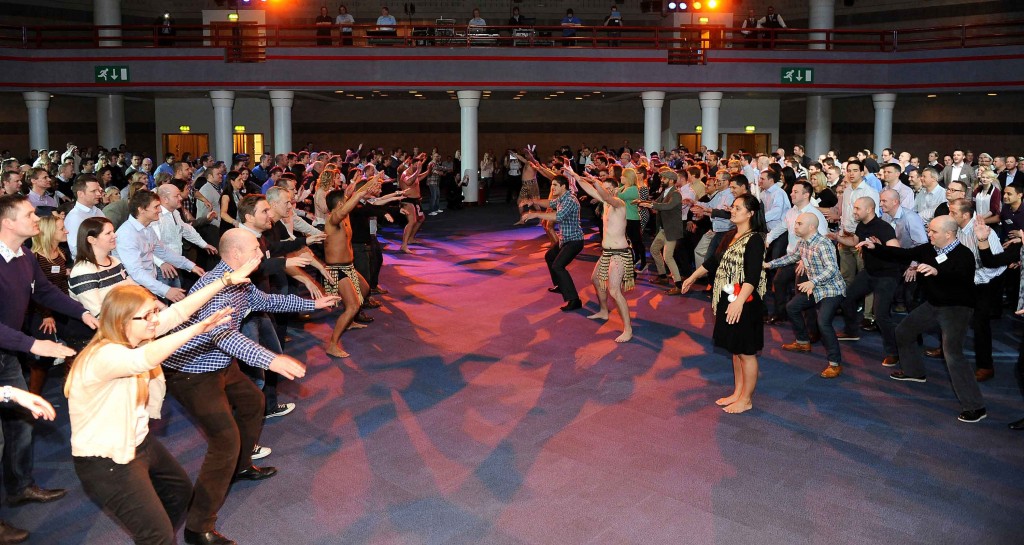 Boomwhakers We're forever amazed at the results of song and sound-based team building events – they seem to unify and strengthen teams in pretty impressive ways. Boomwhackers is one such event – ideal for team building that energises and that could have an underlying company message. They're also perfect for working within a confined space (in-house conference room here we come!)
Thriller Dance As it turns out those zombies and the King of Pop were really onto something when they started their side stepping back in 1982. Who knew that group dancing demanded so much teamwork? This event is the perfect mix between group dancing and fancy dress, zombie style, boosting your team's 'if we can do the Zombie shuffle, we can't do anything' positive mental attitude. Discover why Michael Jackson Ain't Got Nothing on Your CEO
 So there you have it – boosted morale, bolstered productivity and one happier team without you having to even leave the confines of the office. That said, organising team building is far from a breeze, even without the venue to book and sit-down dinner to arrange. In fact, it can often be  more challenging. If you're looking for a helping hand in putting on productive team building at the office, you know where we are –
let's talk
.