We have party entertainment ideas for all occasions, for all size of groups and at any venue anywhere!
So it's your job to organise the company party entertainment then? Well, no pressure! When you are looking for party entertainment ideas, you've got to consider your whole group, the different ages, personalities, the venue, your budget and a whole host of different considerations! Luckily we've been hosting quality entertainment for company parties for over 20 years now and we know what works best for different groups. Take a look at our evening events and give our friendly team a call on 0800 083 1172 today and ask for a free no obligation quote.

Why not take a look and see how we helped one of our long term clients host fabulous evening entertainment after a full day of team events...
We'd hosted a hugely successful Country Pursuits activity for our client in the daytime and they were very keen for us to provide them with a selection of dinner party entertainment ideas so that we could keep the momentum going.
This wasn't a problem at all and we gave them a wide range of different ideas for them to choose from. They were very excited to see Team Generation Game amongst the choices and knew that their guests would absolutely love it!
So we set up our big screen complete with atmospheric star cloth backdrops and awaited the guests arrival — none of them knew what they were going to be doing over dinner and when they walked in to the room and saw the set, they couldn't help but laugh!

Party Entertainment ideas that are fun and interactive - call for a free no obligation quote today!
Hosted throughout the evening between the courses of their meal, and tables becoming the teams, our wonderful professional compare effortlessly commanded the room and instilled a fun, competitive atmosphere. With experts giving a detailed demonstration of all the different challenges, it was then over to the teams to impress the judges and try to score top marks.
You could see and hear the level of competition rise throughout the evening as people encouraged and bantered with each other, all very slickly managed by our compare! Our client was delighted with the evening and said that there had been fantastic feedback in the office after the event. For those that hadn't come along, they felt that they had missed out and would definitely be going on the next away day!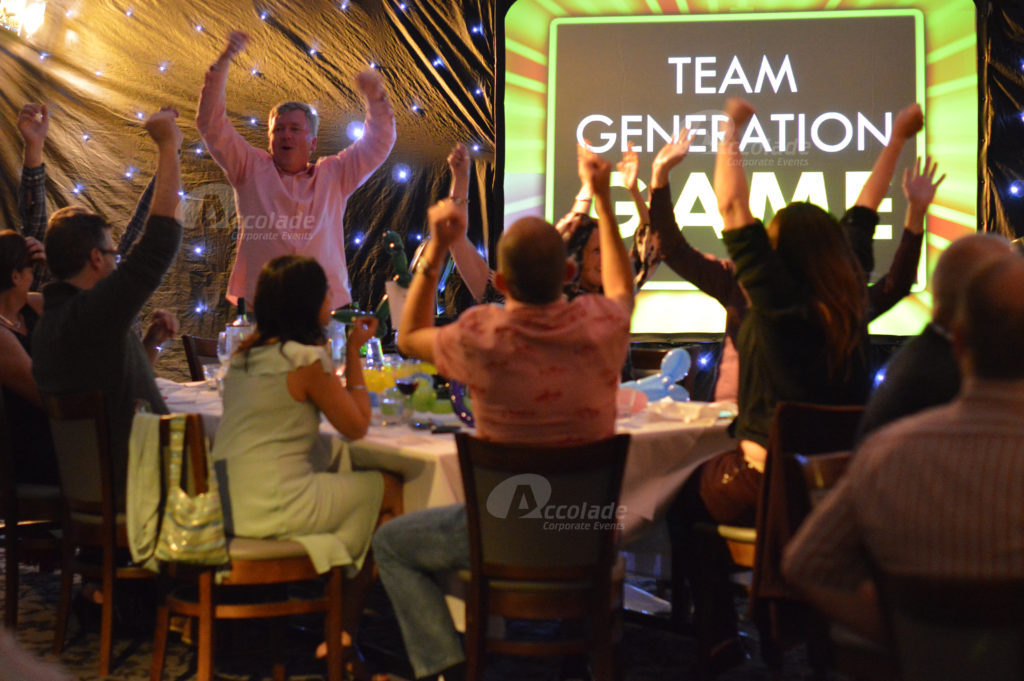 Everybody loved the evening and we had fantastic feedback from the clients. If you'd like us to give you party entertainment ideas, then why not give our team a call on 0800 083 1172 and we'll give you plenty of ideas to think about!